| | | |
| --- | --- | --- |
| Press Conference: Fantastic Mr Fox | | |
Written by Ivan Radford
Wednesday, 14 October 2009 15:24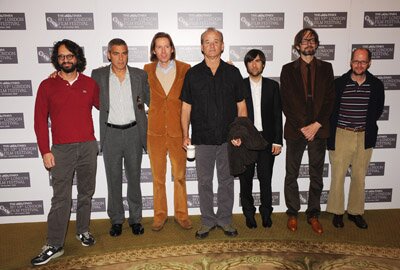 The London Film Festival kicks off tonight with its opening gala feature, Fantastic Mr Fox. No, we're not there tonight – there wasn't enough space on the carpet (even in my most slimming suit, I take up quite a bit of space in the behind region) – but you know where we were? At The Dorchester for the opening press conference for Wes Anderson's stop-motion take on Roald Dahl's classic kid's novel.

Also in the room were George Clooney, Wes Anderson, Bill Murray, Jason Schwartzman, Eric Anderson, Wally Wolodarsky, Jarvis Cocker, and George Clooney (did I mention him already?). Sitting with tongue out, pencil in hand, taking in the delights of the beautiful Ballroom, the room erupted into applause when the stars took to the (very tiny) stage. Then the questions began...

George and Wes - what was the appeal of Fantastic Mr Fox? Why did you want to work on a film, particularly a stop-motion animation, based on that book?
WA: Well, we all grew up with Roald Dahl's writing. Fantastic Mr Fox was the first book I owned, so it made an impression upon me. I always wanted to adapt the book as stop-motion, using puppets with fur, because there's something sort of magical about that.
GC: I just did it for the paycheck. The money. [Laughs] But it was also the chance to work with Wes, which really appealed to me.

George, in what ways do you identify with the character of Mr Fox? What did you think of him as a fox?
GC: What I thought of him…as a fox? [Laughs] Well, he's an optimist, which was really fun to play. I had a lot of fun on the film, working with such a great cast. I didn't enjoy working with Bill, though. There was a lot of hatred there at first. We're okay now, though.

The father-son relationship between Mr Fox and Ash is very central to the movie – did that make you feel broody at all?
GC: Broody? That's a word we don't understand in America!

You're in a few films this festival, and you seem to be playing irresponsible characters who then become more responsible. Do you think that's why you get repeated questions about marriage and children?
GC: That's a really good question! There's a real heavy swing on that one. I don't have an answer for it, though. I mean, I love kids.
BM: Maybe you could adopt?
GC: Yeah, I'll adopt some kids. I'll adopt some of Brad Pitt's. He owes me a couple anyway. [Laughs] 

[At which point a lovely looking person from somewhere or other got up and asked the token film-buff question - there's always one...]

The choice to use stop-motion animation, was that in anyway influenced by its Eastern European origins, like the work of Czech director Jan Svankmajer? Were you trying to use the medium as a means of political subversion?
[In steps Bill Murray.]
BM: Wow, thank you! That's the question we've all been waiting for. That's the reason we flew here today! [Laughter] You go get 'em, Wes…
WA: Well, yeah, we were influenced by old stop-motion films. But politically, I suppose he's sort of a Robin Hood figure. A kind of communist - 
BM: - but also British. Very British. [Laughter]

What do you think the moral lesson of the film is?
GC: Stealing is good. It honours thievery. Theft is a good thing. [Laughs]  Ok, let me try again… [Clears throat] Well, we were all about just trying to be true to your animal nature... Is that better?

Would you work on an animated film again?
GC: Yeah, it was great fun. Doing the voices, we just got to muck around for a few weeks and have a good time. But Wes, he was working on it for 1 ½ years, so you really need to ask him!
WA: It's a very slow process. But I did find that the voices made such a difference. They really helped to create the characters.

What was the highlight of working on the project for each of you?
WW: It was just a lot of fun to work on – I've done voice work before with The Simpsons and stuff, but usually in feature films you don't record with the rest of the cast. Here, we were all alongside each other on a farmhouse having great fun actually doing stuff. You know, where we were running, we actually ran. And when we were hiding behind bushes, we actually hid behind bushes.
JS: I just loved the chance to work with people I really admire. It's a pleasure to work with them, but also just to take a step back and look at them too, like George. Not just for those obvious reasons, but yeah, I liked to watch them. I know that sounds really strange… [Laughter]
JC: Do I even still have a line in the film? Oh, I do? Well, I put a lot of feeling and preparation into that one line, and I just hope you can feel the pain and effort that went into it… [Laughter]

Felicity Dahl said that Roald Dahl, just in the weeks before his book got published, would get really stressed and angry, worrying that it might be his last book. Can you identify with that?
BM: Well, I was with Felicity just the other day, and she made me feel exactly the same way… [Laughter]
GC: This is your last film?
BM: Yes. Good bye! But yeah, she really makes you feel the fear. Whatever went on in that house between them two stays in that house, you know. The important thing is that he's safe now – he's dead! Seriously, Felicity is a lovely person. If I got remarried, I would definitely consider her.

Roald Dahl used to like to scare children. Did you aim to do that with the film?
WA: Well, yeah, I remember his books scared me as a child. In the film, the characters are in constant danger – Mr Fox gets his tail shot off – and if they're not in danger of getting hurt, they're in danger of getting killed. It's exactly the same in the book. We tried not to make it more or less dark, but to keep the film as dark as the book.

How American do you feel the film is, given that it's based on a British novel?
WA: Well, Noah Baumbach and I, who co-wrote the script, are both American. And we feel we write better dialogue for Americans than for English people; it's more natural to us. So we made all the animals American, and kept the humans, the farmers, British.
BM: Because they're the bad guys. [Laughter]

Bill, you do a lot of improvisation – does the animation process help or hinder that?
BM: Well, ultimately, you try to be yourself whatever you're playing, be it a badger, or a doctor, or a housewife. But pretty much the worser the script, the more improv you end up doing. The best people in the film, for me, though, were Eric and Wally, over there. Their perfomances were incredible. But none of that would have been possible without George, who created such a great character for us to all maypole around.

How did you find yourself connecting with your character? How did you channel the badger?
BM: Channeling the badger?! Well, erm, we all have little critters inside us, don't we? But my little animal secrets will remain my little animal secrets! I mean, we all burrow deep, deep, deep down to be safe or to get away from other people... This doesn't really make any sense to you, does it? Look, you know what, if you haven't played a badger, we can't have this conversation. [Laughter]
See more photos from the press conference over here. 
Tags: