| | | |
| --- | --- | --- |
| Cop Out Trailer Online | | |
Written by Ivan Radford
Thursday, 24 December 2009 12:27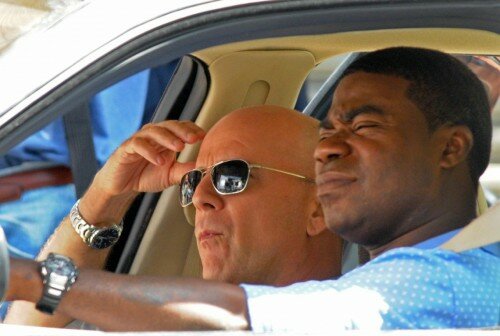 Fans of Kevin Smith rejoice. The trailer for A Couple of Dicks - oh, sorry, Cop Out - is now online. And, well, it's, erm. Not great. Bruce Willis and Tracy Morgan are two NYPD guys who get caught up with the wrong kind of people in a crazy, silly, funny, actiony kind of way. In other words? It's exactly like every other cop comedy you've even seen. And there are just as many laughs too (i.e. not very many).

Visuals wise, it's snappy and stylish. In a generic kind of way. But without Kevin Smith scribbling out the script, there's not much point in him being involved. Don't get me wrong, Smith's work isn't always inspired (Clerks 2 anyone?), but his voice is witty and clever when he hits his groove. Here, his voice has been gagged and shoved up Warner Bros backside.

Brucie's attempts to do his wise-cracking comedy schtick are hit and miss but Tracy Morgan as his black sidekick is just annoying. Luckily, Sean William Scott turns up and produces the one laugh of the trailer. On that basis, maybe all you fans out there should just look away before Kevin Smith's latest really fulfills its title.

Check out the video over at Apple. 
Tags:
cop out
kevin smith
video