| | | |
| --- | --- | --- |
| New New Moon Clips | | |
Written by Ivan Radford
Thursday, 29 October 2009 18:07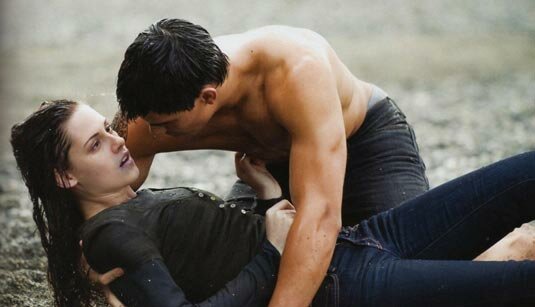 Well, it's what you've all been waiting for. And by all, I mean those screaming fangirls who call themselves Twi-hards (note: we all know Bruce Willis would make mincemeat of you). That said, I can't help but get a little excited about the follow-up to Twilight. Don't get me wrong, I'm not screaming, but maybe a minor yelp might escape my lips between now and Friday 20th November.

But while you're sitting about listening to Paramore, feast your emo eyes on these: two new clips from New Moon! The first sees Edward take on the Volturi (*swoon* my hero), including Michael Sheen's so-camp-it's-scary Aro. The second sees some short CGI work as Bella confronts the wolves of La Push, only to discover their shapeshifting secret. And before you ask, no, you don't get to see Jacob with his top off. But here's a pretty picture instead. Happy now?

Chris Weitz seems to be doing fair by Catherine Hardwicke's original adaptation - although a little more skin-tearing mid-transformation would've been nice (this isn't Pokemon, after all). The casting is turning out to be justified and, with a little bit of luck, the script should be pretty strong too. But enough of the pre-amble, read on for the new clips, or head over here for the full trailer.
Edward vs the Volturi
The Wolf Pack
Tags:
bella swan
chris weitz
edward cullen
jacob black
kristen stewart
new moon
sequel
stephenie meyer