| | | |
| --- | --- | --- |
| 6 Convincing Things about The Amazing Spider-Man Preview Footage (and Full Trailer) | | |
Written by Ivan Radford
Monday, 06 February 2012 22:33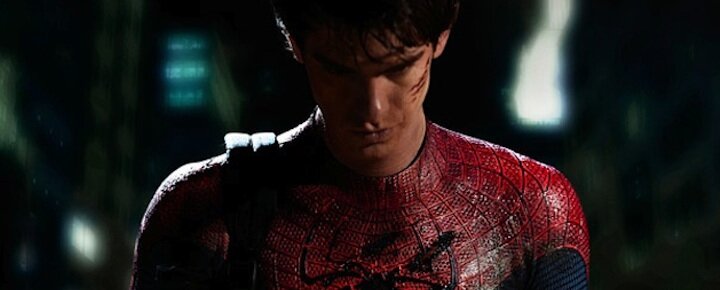 I'm not a big fan of trailer reviews, teaser descriptions or any other such pointless gubbins. But along came The Amazing Spider-Man last night with its promise of never-before-seen footage and I somehow ended up sitting in a cinema watching it. I mean, what else was I meant to do on a Monday night? Watch a program about The Queen? She can't shoot webs from her hands. (If it turns out she actually can, and she's reading this, my apologies twice over, your majesty.)
If you recall my reaction to the trailer that turned up on the interwebs last year, I went into The Amazing Spider-Man's preview event not convinced that there was any point in the movie's existence. 30 minutes later, I was surprised to leave feeling a hell of a lot more convinced.
Here are 6 reasons why - plus The Amazing Spider-Man's new, full trailer.
1. The costume
"If you're going to steal cars, don't dress like a car thief." "Are you a cop?" "Do you seriously think I'm a cop? In a skin-tight red and blue costume?"
We've all seen the revamped costume before, but it's still impressive. From the grafitti-like logo and grimy material to the mechanical web-shooters, it reeks of real-world design. A welcome approach after the CGI trappings of Sam Raimi's trilogy.
2. Andrew Garfield
So long, Tobey Maguire. As you'd expect after Never Let Me Go and The Social Network, Andrew Garfield's Peter Parker is a vulnerable, angsty but determined guy - with amazing hair. Introduced to an audience in New York (and broadcast live via satellite to London), Garfield demonstrated his open and charming presence. "Why do you want to be Spider-Man?" asked the host. He replied: "Because I'm not an idiot!"
Garfield's geek feels grittier than Maguire's - and more attractive too (did I mention the hair?). You can actually believe that Peter would get the girl on his own merits.
One scene in the teaser reel sees Peter ask Gwen Stacy (Emma Stone) out. "Maybe some time you'd like to..." he starts. "Like to what?" she asks. "Like to do... I dunno..." he pauses, awkwardly. "Or maybe we could... or we could..." Gwen smiles.
The chemistry is instantly believable. Think (500) Days of Spider-Man.
3. Emma Stone
When pressed by fans in a Rio cinema to explain the difference between her character and Kirsten Dunst's Mary-Jane, she said: "M.J. falls in love with Spider-Man. Gwen falls in love with Peter Parker." Yes, it was a clearly rehearsed answer from Miss Stone (who may or may not know the comics) but it's still a big difference. And Emma Stone, complete with blonde wig, rich parents and a genuine soft spot for the high-school photographer, is as likeable on-screen (and off-screen) as ever.
4. Rhys Ifans
Oh, Rhys. You could pretty much do anything and make it awesome. Fortunately, he's chosen to be in the Spider-Man reboot - a casting choice that makes the movie far more intriguing than it ever would have been without him. He had a few words to say to the London crowd about playing The Lizard and wanting to do as many of his own stunts as possible.
"We wanted to make a low-tech Spider-Man that wasn't manacled by special effects," he said, before going on to talk about being a Pez dispenser. "Yeah, it's great. Pop em out! I can't actually do that, though - that'd be the Oscar..."
5. Marc Webb
It's been a while since (500) Days of Summer but Marc Webb's rom-com has lost none of its brilliance. Likewise, the director still seems to have a strong ear for soundtracks: Peter's propositioning of Gwen gets a cute indie backing (Coldplay?), while the obligatory training montage plays out to Street Fighting Man by The Rolling Stones. 
But even more impressive than the realistic romance is the fact that Webb has managed to find a possibly original plot to follow: Peter Parker's back-story this time shifts away from Michael Sheen's Uncle Ben and onto his absent parents. The marketing repeatedly promises to tell us "The Untold Story" - in a typically subtle and understated way. Who knows? It might actually do it.
6. The Amazing Spider-Man's full trailer

Aside from the honesty shown by Webb in including unfinished FX shots, the most convincing thing about the footage they screened? They got rid of that stupid first-person bit from the last trailer. Here's hoping they took notice and it'll stay out of the finished movie. (I bet it won't.)
The new trailer will turn up online in the wee small hours of the morning - and, eventually, will be sitting right here for you to watch:
Tags:
andrew garfield
marc webb
the amazing spider-man