| | | |
| --- | --- | --- |
| Hangover 2 Box Office Success Is Headache Inducing | | |
Written by Ivan Radford
Thursday, 02 June 2011 10:30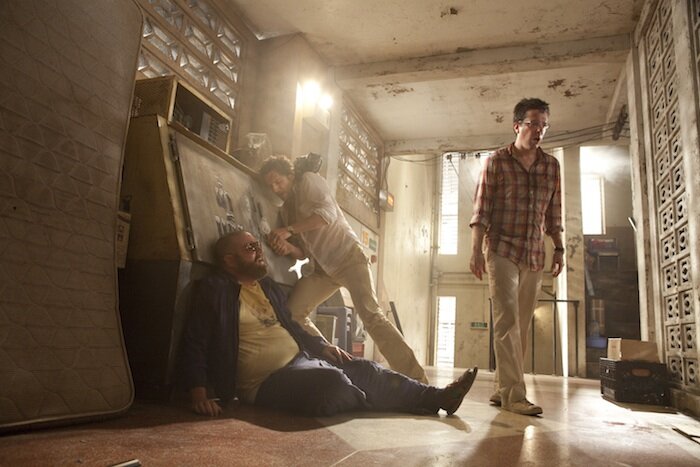 The Hangover: Part II hung over the UK Box Office this weekend, with a headache-inducing total of £10.4m.

That's a scarily high amount for Todd Phillips' offensively unfunny sequel. It's triple the amount of the first film, which took £3.2m on its opening weekend. That's the kind of figure you normally expect from a comedy (Paul opened earlier this year with a very strong £5.5m including previews), so £10.4m will be making Warner Bros very happy. Everyone else, of course, will just be dismayed.

Not even Jack Sparrow could hold it off the UK Top Ten top spot. Pirates of the Caribbean 4, which was considered to be doing well last week, earned half The Hangover 2's amount at number two, pillaging its way to a hoard of £4.7m.

That's a drop of around 40%, which gives it a large running total (just under £20m) but leaves it quite a way behind the last few in the franchise - Pirates 2 had £26.7m after two weeks in cinemas. With 567 and 469 screens respectively, though, Pirates 4 and The Hangover 2 will be serious competitors against X-Men: First Class this weekend.

With all the blockbuster action and 15-rated comedy on offer, parents with younger children have little other choice than Diary of a Wimpy Kid 2. Which explains why Fox's sequel got almost £1.5m over the weekend - a great result given the first Diary of a Wimpy Kid debuted with £600k odd. 

Disney will be looking to take family audiences away from X-Men and Thor with Jack Sparrow, but the only other half-term option is Rio, which has been around for way too long already. Greg Hefley hung around for 5 weeks last year to chalk up a total of £2.5m, so Wimpy Kid 2 will be expecting a nice healthy run - at least until Kung Fu Panda 2 bounces into multiplexes (the previews this week have had a very strong response).

The rest of the UK Top Ten remains largely unchanged, as Fast Five continues to race towards a cumulative gross of £20m. Attack the Block, meanwhile, dropped 60% down at number nine, and will inevitably lose quite a few screens to Marvel's mutants and Dreamworks' panda. Bare sad, innit, blud.

On even fewer screens is Le Quattro Volte, which needed only 15 screens to notch up almost £35k (not including Bank Holiday Monday) and will be looking to expand its release next weekend. Who knew people would pay to see goats? Apart from director Michelangelo Frammartino, of course. But he probably likes goats a little too much.

It's hard to believe that summer is already here again, but cinemas will be pleased to have a June without the World Cup to distract viewers. Can X-Men: First Class top 2011's opening record of £11m, which was set by Pirates 4 two weeks ago? It has to get past The Hangover Part II first - and that was still selling out screens on Wednesday evening. Here's hoping that's one headache that will soon go away. At least until The Hangover Part III turns up.
Tags:
bradley cooper
le quattro volte
on stranger tides
pirates 4
the hangover
the hangover part 2
todd phillips