| | | |
| --- | --- | --- |
| Fast Five Races to UK Box Office Top Spot | | |
Written by Ivan Radford
Wednesday, 27 April 2011 18:13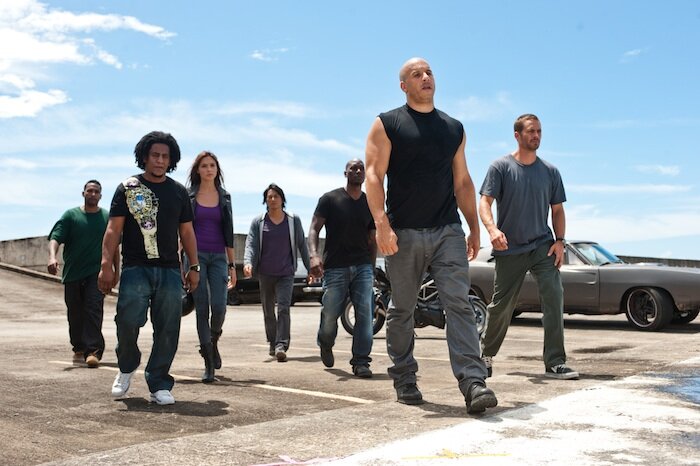 Fast Five raced to the UK Box Office top spot last weekend, raking in £5.3m in an eggs-cellent Easter weekend turnover. For Universal, that's almost as good as the news that I won't make any more egg puns for the rest of this article.

The fourth sequel in the franchise outperformed all the other new releases (not to mention the previous Fast and Furious films - the last one opened on £4.9m), mostly thanks to a whole Thursday of previews.

With many films struggling to break the £1m weekly mark these days (partly down to the sunny weather), getting into the £5m zone is impressive. It's even better when you include the Monday's takings, which saw Fast Five's total jump to over £6m.

Arthur was the main contender for the UK public's affections, but Russell Brand's rather likeable comedy, which got several bad reviews, didn't win many fans - it opened with a moderately respectable £764k.

That's OK given the appeal of the pretty Easter outdoors, but it's a long way off what Warner Bros would have expected, even after Arthur's moderately lacklustre $12m opening in the US. Brand's last major comedy, Get Him to the Greek, debuted with £1.56m in the middle of June - over double the amount the rich billionaire racked up.

Second place flew to Fox's 3D animation Rio, which took just over £800k in its third week of release. Getting a boost from Easter holidays, Rio's running total is now just over £8m. That's good compared to Universal's Hop, which has a current gross of £5.9m. But neither are great compared to Disney's Tangled, which ended up with £20m odd at the end of its theatrical run. As for Winnie the Pooh, down in 13th place with second week receipts of £74k, it's just hard to believe that Disney could fail to market it so comprehensively.

Away from kids fare, Scre4m continues to perform well at the UK box office, slashing its weekly takings by 65% to around £700k. That's a significant drop from the opening of £2m, but Entertainment Film should be pleased with a UK performance that is consistently above the equivalent US takings. A cumulative total of £4m for a horror sequel is nothing to be sniffed at, especially away from the usual scary movie winter months.

More terrifying for E1 is the massive dip of Your Highness' box office, which has left the UK Top Ten after failing to take more than £200k after only being out for two weeks. Red Riding, on the other hand, stayed in the top ten (albeit in seventh) and reminds us all that Alex Pettyfer's Beastly is an even bigger flop - it took around £500k, but only if you include its two days of advance previews. Feel free to point at laugh.

The week's main success is another racing film, TT3D. The 3D documentary did very well in fewer than 80 screens, accelerating away with £313k, a figure that will trouble Vin Diesel in his sleep for the rest of the week. It's a strong endorsement for the 3D documentary format alongside Wim Wenders' Pina, which slipped into the charts at number 14 on £71k from around 20 cinemas. Plus it proves that even The Isle of Man can attract audiences if fast moving vehicles are involved.

The question now is whether Thor can hammer its way to the top of the table over the Royal Wedding weekend. Given the Easter Monday and Orange Wednesday previews, it's hard to see the Norse God of Thunder slipping up. Expect Rio to lose screens and Fast Five to lose money as Marvel's first summer blockbuster dominates multiplexes. Oh yeah, get ready for Branagh time, baby.
Tags:
arthur
hop
rio
russell brand
scream 4
tt3d
vin diesel
your highness