| | | |
| --- | --- | --- |
| Rango Reaches Top of UK Box Office; Submarine Doesn't Sink | | |
Written by Ivan Radford
Tuesday, 22 March 2011 08:48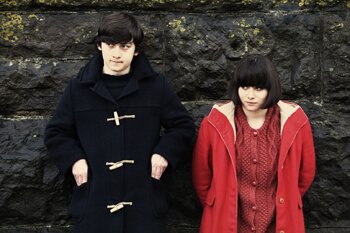 Rango has reached the top of the UK Box Office after a lukewarm week that saw no-one make very much money. But don't worry: Submarine didn't sink, even if it did surface in 12th place. More on that later.

Dreamworks' animated Western took the number one spot from Battle: Los Angeles, dropping 32% down to £1.05m. That's not a lot for a chart-topper, but it's got a healthy £5m running total now, which it's clocked up outside of half term and without 3D uplifts.

It's also the only film to take more than £1 million this week, as it doesn't look like many people went to the pictures over the weekend: Rango's £500k drop is more than most of the new releases made in their first week.

Chalet Girl sloped in at number four (the highest of the debuts) with an alright £677k. Taking into account the usually reliable demographic of teenage girls, though, it's a bit of a downhill run for the rather excellent rom-com (that's right: it's excellent). Still, its Wednesday-Thursday previews helped it jump over The Lincoln Lawyer, which came in fifth with £571k.

The week's other popular release was Anuvahood, which had a solid opening, taking £536k from around 149 cinemas. That's an average of £3,600 per screen, the best of the UK Top Ten, which not only beats Felicity Jones and Matthew McConaughey but also makes it look bare easy, blud, you get me? Regardless of negative reviews and the limited print run, the audience for the gangsta comedy clearly liked the film - even more than I liked using the word 'blud' in that last sentence.

With the new movies flopping, Battle: Los Angeles capitalised with a second week's takings of £874k (it's amassed a pretty mediocre £3.45m total) to claim second place, while Liam Neeson's Unknown stuck in people's memories enough to earn £775k in third. These still aren't great numbers, though, and not necessarily because they're bad movies. Well, Unknown isn't bad anyway.

Even The King's Speech took only £350k - a minuscule amount in the face of its £44.01m total. Yes, it's above Toy Story 2 now in the UK All-Time Top 25, but it's taking its time hitting that £45m target we all expect. Especially when it's still got a hold on almost 400 screens across the country (the only two films with more screens are Rango and Battle: Los Angeles). Oh well, the important thing is that Executive Producer Geoffrey Rush is now loaded.

Less loaded is Richard Ayoade, but he won't be complaining. Here's the bit that you all want to know: Submarine didn't sink in the low financial tide. It took only £244,476 in its opening week, but did so from just 60 sites, clocking up a relatively strong average of £4,075 - good news for Richard Ayoade fans, or people who just like really, really good films. Like Anuvahood, its audience went to support it, and it will expand to 100 cinemas next weekend. Here's hoping it survives in busier weekends.

For those who prefer their films to be a little more like Woody Allen, the director's latest, You Will Meet a Tall Dark Stranger, hit the charts down at number 15. It took £112k from 101 screens, for a rather dismal £1,109 average - proving once and for all that he's the cinematic equivalent of Arsenal Football Club.

Above Woody, but still outside the UK Top Ten, are Paul and West Is West - both eking out their box office presence in 11th and 13th place respectively. While Simon Pegg's sci-fi is almost at a cumulative gross of £14m, it's more impressive that the East Is East sequel is on £2.37m and that people are still wanting to see it. Who knew?

But even with the Submarine-induced happiness, this is still a week where no new releases made it past the £1 million mark - a very odd set of figures. So why the low numbers? Either people were out gazing at the Super Moon all weekend, fascinated by their insignificant role in the big wide universe, or they were watching Comic Relief. I really hope it's the first one. It clearly isn't.

As a non-Comic Relief weekend approaches, I wouldn't be surprised by a slight surge in Chalet Girl's takings, as long as Bradley Cooper's drugged-up Limitless torso doesn't steal the rom-com's screens - or its gaggles of teenage girls for that matter. 
Tags:
anuvahood
battle los angeles
bradley cooper
submarine
the lincoln lawyer