| | | |
| --- | --- | --- |
| New Social Network Clips! | | |
Written by Ivan Radford
Tuesday, 12 October 2010 09:16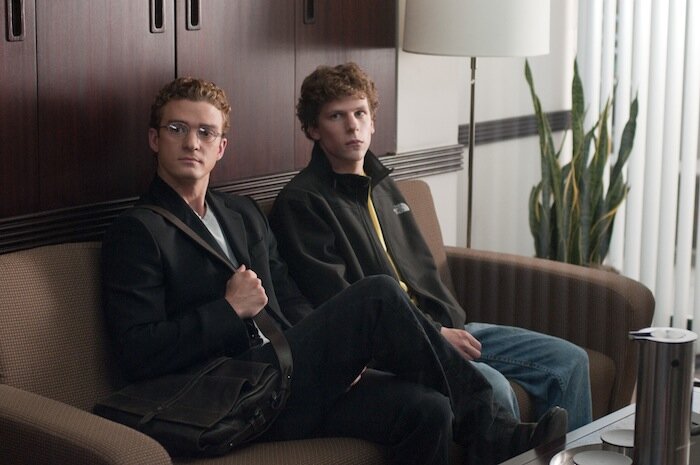 In case you weren't already looking forward to David Fincher's generation-defining, era-capturing, Jesse Eisenberg-starring masterpiece (review over here), we've got our hands on some sexy new clips for The Social Network.

A taut courtroom drama about the inception of Facebook, it stars Eisenberg as Mark Zuckerberg, the prodigious computer programmer from Harvard who has trouble connecting with anyone. Including his best friend Eduardo Saverin (Andrew Garfield) and ex-girlfriend Erica Albright (Rooney Mara). Driven by power and greed, he's drawn to entrepreneur Sean Parker (Justin Timberlake) as his stock begins to rise.

Needless to say it doesn't end well.

But while you wait to see the twists and turns of the history books in full, these snappy new videos give you a chance to sample Aaron Sorkin's crackling script. Charged with energy and wit, it's a ping-pong game of Rashomon proportions. And gives Jesse Eisenberg a real chance to shine as the selfish young genius.

Check out the trailers over in our videos section, or read on for a couple of new clips. Now aren't you excited? Yes. And that answers our condescending question.
Clip 1: It's Raining 
Clip 2: The Equation
Still need your Social Network fix? Read what Jesse Eisenberg, Andrew Garfield, Aaron Sorkin and Justin Timberlake had to say at the press conference last week.
Tags:
aaron sorkin
andrew garfield
facebook
jesse eisenberg
justin timberlake
mark zuckerberg
rooney mara
the social network