| | | |
| --- | --- | --- |
| The Other Guys Premiere Report | | |
Written by Ivan Radford
Wednesday, 15 September 2010 15:47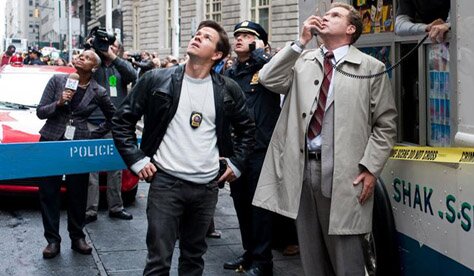 Cinema's new odd couple, Will Ferrell and Mark Wahlberg, descended upon London last night for the premiere of Adam McKay's cop comedy, The Other Guys. Leicester Square was cordoned off by police tape as the two unlikely detectives walked the beat down the carpet to the sound of screaming fans.

Despite their arguments over who would win in a fight between a lion and a tuna, the two stars were more than happy to take time out to say hi to the crowds. Looking dapper in their suits (especially Will Ferrell with his afro and sideburns), they were joined by Eva Mendes and Anchorman director McKay to brave London's glorious rain.

The Other Guys sees paperwork-lover Alan Gamble and mentally unhinged Terry Hoitz take the frontline in crime-fighting when the real cops are taken out of the picture. They're incompetent, annoying and drive around in a Toyota Prius.

Fortunately Ferrell and Wahlberg didn't turn up in the Prius last night. Even more fortunate than that, no-one was threatening to jump off any nearby buildings.

The Other Guys is in cinemas on Friday 17th September (our review's over here). Read on to see the water-logged glamour of the premiere for yourself in our lovely rain-soaked video. 
Tags:
adam mckay
anchorman
eva mendes
mark wahlberg
premiere
red carpet
the other guys
video