| | | |
| --- | --- | --- |
| Poster and Trailer for The Last Exorcism | | |
Written by Ivan Radford
Tuesday, 03 August 2010 17:11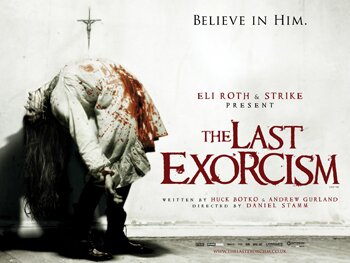 What do you do after directing Hostel and Hostel II? Produce a film about exorcism is the answer, as the trailer and poster are revealed for the Eli Roth-produced horror, The Last Exorcism.

Directed by Daniel Stamm, the film follows in the footsteps of Paranormal Activity and The Blair Witch Project, opting for a "found footage" plot with plenty of night-vision shocks.

The plot itself sees Patrick Fabian playing a devious priest, Reverend Cotton Marcus, who has spent his life helping the devout through prayer and trickery. Now on his final days are a fraudulent exorcist, he invites a TV crew to film his latest case: a possessed girl (Ashley Bell), whose father begs him to work his clergy magic.

Naturally, things don't go according to plan. And the father comes face to face with evil itself. Does the thought of a Paranormal-Exorcist hybrid scare you? Check out the trailer over in our videos section and decide for yourself.

The Last Exorcism is released on Friday 3rd September.
Tags: