Star Ratings
| | |
| --- | --- |
| | Amazing |
| | Well good |
| | Fun |
| | Meh |
| | Rubbish |
| | | |
| --- | --- | --- |
| Up | | |
Written by Ivan Radford
Friday, 09 October 2009 10:59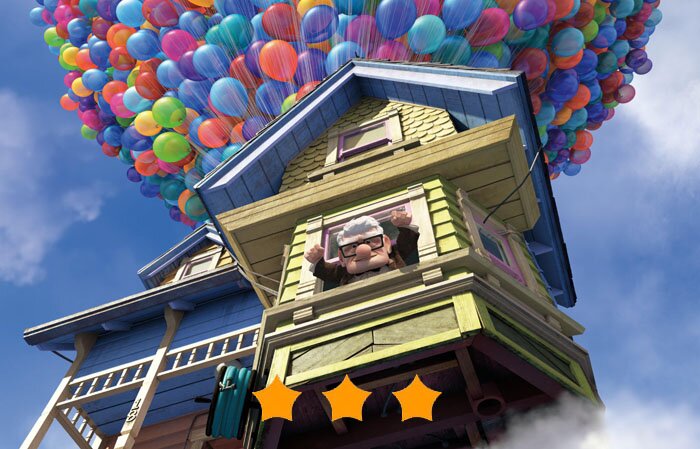 Directors: Pete Docter, Bob Peterson
Cast: Ed Asner, Jordan Nagai, Christopher Plummer, Delroy Lindo
Certificate: PG
Up has already been hailed as a masterpiece. From its left-field concept to its silent opening sequence, which sees a man's life float by in 10 minutes, it's wonderfully put together. As Carl Fredrickson's (Asner) house soars skywards, tethered to thousands of bright balloons, your mouth can't help but drop open. Casting multi-coloured silhouettes over lush landscapes, these shots alone are a work of art. But don't get carried away - this is not the perfect Pixar project.

It starts on a sad note as Carl, keen explorer and wannabe adventurer, meets Ellie as a young boy. Together, they plan to visit Paradise Falls, following in the footsteps of their hero, Charles Muntz (Plummer). But the years pass, they get married, they do up the house, and then she dies. Left alone, Carl is bitter, angry and old; a brilliant grumpy protagonist for a thoughtful adult's film. But wait, isn't this a kid's film?

Once again, Pixar produce the goods, hitting the whole family firmly on the head. Confident enough not to pander to kids, Up has a poignant air that wafts through the whole film. Enter Russell (Nagai), young boy and Wilderness Explorer, who needs his last badge to hop up the ranks to Senior Wilderness Explorer. All he has to do is assist the elderly. Needless to say, Carl doesn't want any assistance. Faced with eviction and a retirement home, he ties balloons to his home, flying away to freedom. With Russell on board.

A typical odd couple relationship forms, with the snappy cantankerous Carl tired by Russell's good-natured simplicity. Then, when they reach South America, the whole age-kills-off-dreams theme comes full circle, with the return of a character from Carl's past. It's a clumsy set-up in many ways, with father-son stuff hovering around in a thick sentimental fog. Throw in some talking dogs - one has a squeaky voice - and it starts to look more like a conventional kid's film.

In fact, the second half of Up sinks a bit after the lofty heights of the first. Pixar have described it as their funniest yet. It isn't. The action sequences, too, pale compared to The Incredibles, but while the suddenly agile old men aren't that exciting, the overall project is. For although it begins to deflate towards the end, Pete Docter and Bob Peterson have produced a delicate and unashamedly emotional piece. The 3-D doesn't make a jot of difference, and that's why it works; gimmicks aside, this is the heartfelt story of a pensioner, a boy, and a brightly coloured bird. Scrawled out in caricature-style, it may look simple, but Up has a lot of depth.

VERDICT

Low on laughs, high on sentiment, Up is an unusually adult animation. It's good, but not Toy Story good.
Your rating
( 3 Votes )
Tags: