Star Ratings
| | |
| --- | --- |
| | Amazing |
| | Well good |
| | Fun |
| | Meh |
| | Rubbish |
| | | |
| --- | --- | --- |
| Review: Horrid Henry: The Movie (3D) | | |
Written by Ivan Radford
Wednesday, 27 July 2011 08:45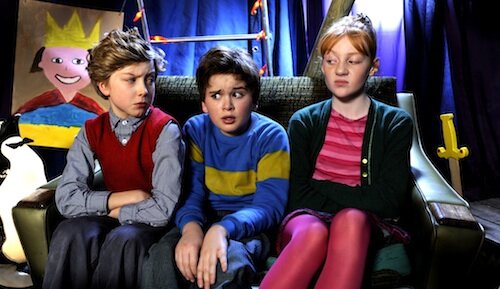 Director: Nick Moore
Cast: Theo Stevenson, Richard E. Grant, Anjelica Huston, Noel Fielding, 

Scarlett Stitt

, David Schneider, Ross Marron, Parminder Nagra
 Certificate: U
Trailer
It's not fair. That's what Henry would say if he saw this movie. But then Horrid Henry (Stevenson) says that about everything. Life's not fair. School's not fair. His parents aren't fair. But adapting Francesca Simon's widely-loved books into a film with little sense and even fewer laughs? That's really not fair.
It's not that the acting's bad - Theo Stevenson is a good choice for Henry, and his voice is spot-on - it's that the cast are completely wasted. Characters like Moody Margaret (Stitt) and Perfect Peter (Marron) should be colourful and memorable, but no matter how many colours they plaster the set with, the script leaves them deader than Moaning Myrtle.
The adults don't fare much better. Richard E. Grant should be in his element as evil private school headmaster Vic Van Wrinkle. Instead, he looks bored, while Anjelica Huston's world-weary teacher, Miss Battleaxe, can't decide whether to be strict, sad or soppy. The less said about David Schneider's Soggy Sid the better.
The challenge lies in adapting Simon's short stories into a feature-length plot, and the basic premise (saving Henry's school from closure as a corrupt OFSTED threatens to cut its funds) is solid. But somehow writer Lucinda Whiteley turns it into a string of unfunny jokes and pointless subplots. One scene (a school talent contest) sees Noel Fielding appear as a famous musician. Naturally, his make-up, hair and hat have nothing to do with anything.
Then there's the ending. Building up to a TV show featuring a string of gruesome challenges, Horrid Henry: The Movie suddenly shifts from an unstructured mess to a nightmarish remake of Pat Sharp's Fun House, starring Dick and Dom (playing, inevitably, Dick and Dom). It's unconnected to the rest of the film, and Dick and Dom's over-the-top antics soon start to grate - whoever felt that they deserved their own big screen outing should be locked in a small room with The Chuckle Brothers for 10 years. In 3D.
If it were high on laughs, you could forgive Horrid Henry: The Movie for being short on story. Diary of a Wimpy Kid 2 proved that. Director Nick Moore piles on the brightly-coloured goo and glow-in-the-dark snot, but none of it sticks. Even with its target audience of under-10s pumped full of sugar and popcorn, there's not much to amuse. I haven't seen so many children not laughing since I got fired as a kids entertainer. 
VERDICT
Horrid Henry? Boring Bernard, more like. Is this what kids have to look forward to after completing their homework? That's really not fair.

What did you think?
( 4 Votes )
Tags:
anjelica huston
david schneider
dick and dom
francesca simon
helena barlow
horrid henry
horrid henry the movie
nick moore
noel fielding
parminder nagra