Star Ratings
| | |
| --- | --- |
| | Amazing |
| | Well good |
| | Fun |
| | Meh |
| | Rubbish |
| | | |
| --- | --- | --- |
| Limitless | | |
Written by Ivan Radford
Friday, 25 March 2011 09:03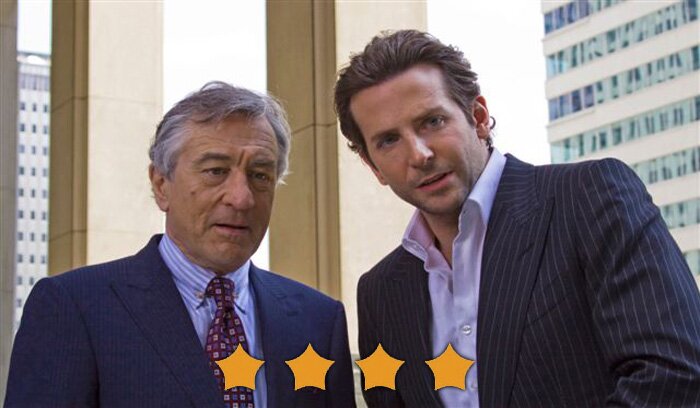 Director: Neil Burger
Cast: Bradley Cooper, Abbie Cornish, Robert De Niro
Certificate: 15
It's not often you get to see a happy film about hard drugs. But just when you were getting sick of overdoses, deaths and grimy one-bed flats, along comes Limitless. It's loud, thrilling, fast-paced AND happy. It's the anti-Requiem for a Dream.

Poor Eddie Morra (Cooper). A washed-up writer who hasn't managed to write anything, he's a long-haired damp squib of a man. No wonder his girlfriend (Cornish) leaves him.

But then he discovers (via his sleazy ex-brother-in-law) NZT-48, a clear pill that looks a bit like a squashed jelly bean and unlocks 100% of his brain. Churning out a novel (nay, a sci-fi masterpiece) in a matter of hours, Eddie suddenly becomes smart and funny - nothing short of a genius with an infinite capacity to remember stuff. And just to rub it in for all us boring, normal 20%-ers, he looks a lot like Bradley Cooper. Bradley Cooper in full-on sexy mode.

Cooper really is brilliant in this role, sliding up and down the loser/douchebag scale like nobody's business. He's as believable twitching in a puddle on the street as he is playing the stock markets, which is quite handy, because that's exactly what the plot has him doing. Wowing businessman Carl van Loon (De Niro) with his mega-brain, he makes billions of dollars in minutes, flashing his smile and shiny blue eyes at anyone who will listen to his smarmy, intelligent spiel.

It's impossible not to like to guy, especially when it turns out that NZT-48 is non-FDA approved (well, duh) and could wind up killing him. Trying to beat the drug to the job are some token Russian gangsters who also want their hands on the magic pill - just in case the movie isn't exciting enough already. Thanks to director Neil Burger, it is.

Shooting things like he's David Fincher's long-lost son, Burger flings the camera all over the frame, multiplying Bradders when he's high and bringing out the old fish eye lens when things start to wind down. Some of it doesn't work (Eddie's creative writing boost is accompanied by giant letters raining down from the ceiling and impaling his desk like a dictionary-based spin-off from Tetris), but it's eye-popping stuff: one repeated riff sees Burger zooming in on the screen over and over, a relentless cycle of New York city hurtling towards the foreground. It's brilliant.

Naturally, there are plot holes all over the shop - weirdly echoed by Eddie's increasingly severe blackouts. At one point he's manufacturing his own supply of NZT, then suddenly he's scrabbling to find his last remaining pill. But in between the random deaths, stupid science, and Eddie's high-flying political career there's a solid action film that's simply buzzing. De Niro and Abbie Cornish have little to do other than stand back and watch Bradley Cooper, but at the rate he's running around, it's hardly worth complaining. He uses 100% of his brain; switch off yours completely and this drug-addled caper is a cracking ride. Drugs are good, mmkay?

VERDICT

A frenetic, addictive high, Limitless fires on all synapses. It's like Trainspotting's happy cousin.
Your rating
( 1 Vote )
Tags:
abbie cornish
bradley cooper
fight club
neil burger
robert de niro
trainspotting