Star Ratings
| | |
| --- | --- |
| | Amazing |
| | Well good |
| | Fun |
| | Meh |
| | Rubbish |
| | | |
| --- | --- | --- |
| Gulliver's Travels | | |
Written by Ivan Radford
Tuesday, 21 December 2010 12:46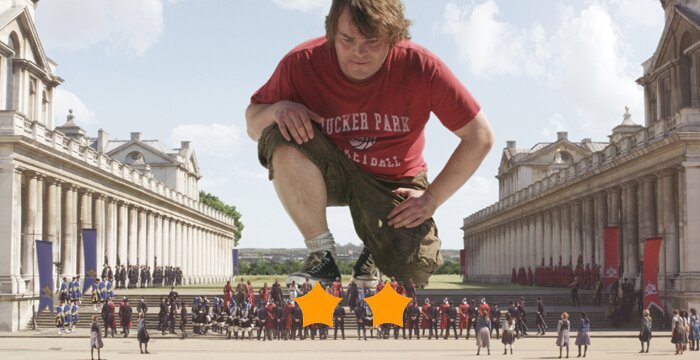 Director: Rob Letterman
Cast: Jack Black, Emily Blunt, Jason Segel, Chris O'Dowd, Amanda Peet
Certificate: PG
Trailer
"A blue furry Charles Dickens who hangs out with a rat?" "Absolutely!" That's the kind of family-friendly comedy you expect from a modern take on a literary classic. But Muppet Christmas Carol this ain't. Gulliver's Travels takes the other approach. Namely, remove brain, insert Jack Black and add in giant robots. Ta da! Christmas movie magic!

It seems somewhat Scrooge-like to whine about the lack of satire in a film with a PG certificate (hello, Dr Strangelove). Especially when the film boasts the comic talents of Chris O'Dowd, Catherine Tate, Jason Segel, and Billy Connolly. On the other hand, it seems somewhat retarded to accept it all as a perfectly fine cinematic romp. Especially when it boasts the comic talents of Chris O'Dowd, Catherine Tate, Jason Segel, and Billy Connolly.

Gulliver (Black) works in the mail room at a newspaper, desperate to date Travel Editor Darcy Silverman (Peet) and be a bigger person than he already is. Several Guitar Hero scenes later, he's on a boat to Bermuda, where he gets sucked into a vortex and winds up tied to a beach by tiny people. So far, so bearable. Then the plot kicks in. It kicks all the way into its anus.

Grateful for Gulliver's fire-extinguishing skills - like the book, he uses his penis - the town of Liliput raises him up as their hero. Building a replica New York just for him, they plaster everything (including billboards) with his own image. Wicked is there. iPod ads are too. So is a poster for Gavatar. Yes, Gavatar. See what they did there?

But Gulliver is also concerned with helping honest Horatio (the likeable Jason Segel) get off with Princess Mary (an admirably blasé Emily Blunt), in spite of her pathetic (and evil) suitor-in-waiting, General Edward (O'Dowd). Together, the three of them almost make the high-low society rom-com work (albeit without any good gags). Then it all turns into Robot Wars. You half expect Craig Charles to make a cameo appearance. Or worse, Jeremy Clarkson.

Ok, so the production design is quite impressive. And it's also nice that they (briefly) include Brobdingnag, the land of big people, too. But this is no Jonathan Swift tale. And if you're going to adapt a classic novel into 90 minutes of 3D fun, you can't just slap some butt jokes in and expect genius to fall out the other side. Gulliver's Travels ticks along at a tolerable pace, but there are no laughs at all. Here's hoping for the sequel, A Modest Proposal, in which Jack Black travels to an impoverished Ireland and eats all their babies. Literally. With a giant robot.

VERDICT

Robots and midgets and Jack Black. Oh my. Gulliver's Travels is a hell of a muddle. Watchable, but hardly enjoyable.
Your rating
( 2 Votes )
Tags:
a modest proposal
amanda peet
billy connolly
catherine tate
jack black
james corden
jonathan swift
monsters vs aliens
pg