Star Ratings
| | |
| --- | --- |
| | Amazing |
| | Well good |
| | Fun |
| | Meh |
| | Rubbish |
| | | |
| --- | --- | --- |
| Review: Pirates of the Caribbean: On Stranger Tides | | |
Written by Ivan Radford
Monday, 16 May 2011 11:03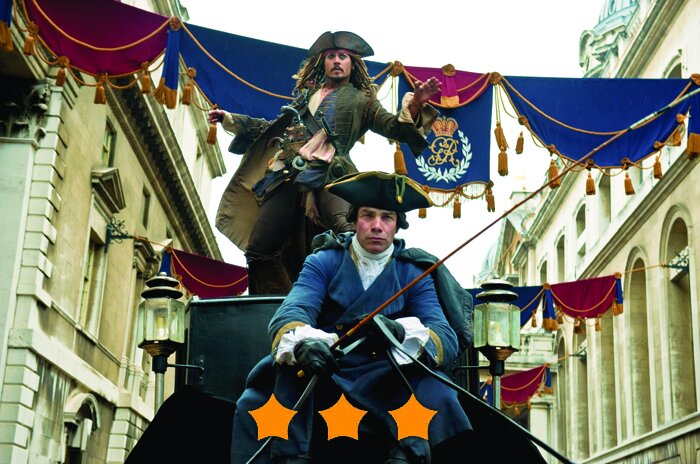 Director: Rob Marshall
Cast: Johnny Depp, Penélope Cruz, Geoffrey Rush, Ian McShane
Certificate: 12A
Trailer/Clips
When Pirates of the Caribbean: On Stranger Tides was first announced, the world groaned so loudly that even Brian Blessed's wife could hear it. So you'd be forgiven for thinking that this amazingly pointless sequel is a load of commercialised drivel. And it is. But by an amazing stroke of luck, Pirates 4 is something that Pirates 2 and 3 never were: fun. Why? Mostly because it's got Penélope Cruz. In a hat.

Yes, the fiery Spanish actress is playing her usual fiery Spanish self. And there's only one way to make her even more fiery and even more Spanish: make her wear a hat.

Cruz is the main reason why Pirates 4 recovers the energy well and truly sunk by the franchise's last entry. The convoluted chain of endless Maguffins isn't quite so convoluted and a little less endless. Gone are the wooden Keira Knightley and Orlando Bloom. In their place? Angelica (Cruz), former lover of Captain Jack Sparrow (Depp) and daughter of fearsome pirate Blackbeard (McShane).
It all starts off superbly, with Captain Jack breaking out of prison only to bump into Richard Griffths (playing King George the whatever). A quick dash round the palace and we're into a horse and cart chase through period London with a peg-leg Captain Barbossa (Rush) fast behind. It's a cracking set piece, which proves Chicago director Rob Marshall can shoot both showgirls and sea dogs and keep things entertaining.
Then we board the Queen Anne's Revenge, Mr Beard's spooky ship. Played with a grizzled stare by Ian McShane, Lovejoy the Pirate (with a face as orange as it is evil) is after one antique in particular: the Fountain of Youth. It's not hard to guess why. And so begins a madcap dash across jungles, caverns and coves - and the dashing never really stops.
For some, the relentless pace may become tiring. But after two plodding sequels full of wardrobes and boredom, the onslaught of action hits the spot. One sequence involving a horde of mermaids is exceptionally well done, while Geoffrey Rush and Johnny Depp get back some of their old twinkle over the sprightly 136 minutes - the shortest runtime of the series so far.
Yes, there are missteps, specifically a fishy romantic subplot involving Sam Claflin's wet missionary and watery tart Astrid Berges-Frisbey, but Pirates 4 does well to steer the franchise (just) out of those old crappy waters. Thanks to Lovejoy's beard and the script's confident speed, On Stranger Tides is actually enjoyable - although that doesn't mean we need a Pirates 5. There's nowhere left for any of these characters to go, if you can call them characters at all. This is corporate profiteering at its most bombastic, but sometimes a little bombast is a lot of fun. Especially if it involves Penélope Cruz in a hat.
VERDICT
Avast load of nonsense, Pirates of the Caribbean: On Stranger Tides has everything a blockbuster needs: beards, swords, and Penélope Cruz. In a hat.
What did you think?
( 1 Vote )
Tags:
geoffrey rush
ian mcshane
johnny depp
on stranger tides
penelope cruz
pirates
pirates 4
pirates of the caribbean
rob marshall