Star Ratings
| | |
| --- | --- |
| | Amazing |
| | Well good |
| | Fun |
| | Meh |
| | Rubbish |
| | | |
| --- | --- | --- |
| Review: Harry Potter and the Deathly Hallows Part 2 | | |
Written by Ivan Radford
Monday, 11 July 2011 07:23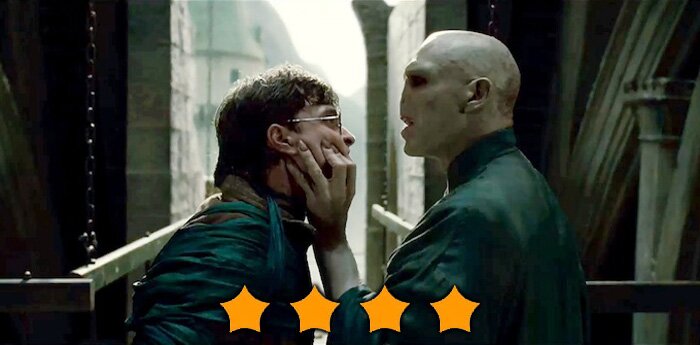 Director: David Yates
Cast: Daniel Radcliffe, Rupert Grint, Emma Watson, Ralph Fiennes, Helena Bonham Carter, Maggie Smith, Alan Rickman
Certificate: 12A
Trailers / Potter Special
This is how you end a franchise. Not by writing "It All Ends" in large letters on the poster, but by killing off several cast members before the final reel. If you ever needed proof that Harry Potter has grown up since the sugar-coated fluff of Philosopher's Stone, the dark carnage of Deathly Hallows Part 2 is it. You couldn't fit in any more death if you turned all the wizards into Lemmings and set them to nuke. In short, it's bloody brilliant.
It kicks off with a silent echo of Part 1, as Lord Voldemort (Fiennes) climbs into Dumbledore's (Michael Gambon) grave, plays with his wand and pulls a sex face. And that's your introduction. There's a brief chat between Harry (Radcliffe) and John Hurt about the titular Hallows, which include the most powerful wand ever made, but that's all the exposition you're getting.
It's a great demonstration of David Yates' knack for visual storytelling, joining the two halves without clunky conversations. Not that we need them: we've had a decade to get to know these characters and their quest to destroy Horcruxes, the pieces of Voldemort's soul. Hermione (Watson), Ron (Grint), the deranged Bellatrix (Bonham Carter) and conflicted Draco (Tom Felton) don't have to explain themselves. They just need to get on with blowing up Hogwarts. And boy, do they blow it up.
Taking their 10 year history and running with it, Deathly Hallows Part 2 is the payoff for those boring years with Chris Columbus at the helm. It goes like a firecracker, exploding with spectacular CGI, while Daniel Radcliffe leads with the confidence of a hero who understands where he's headed. It's thrilling stuff – especially the bit where they break into Gringotts Bank via a runaway mine cart and a dragon pops up (along with Hermione's lady bits).
Unlike the phenomenal Part 1, though, there are some slips in the screenplay. Most notably, Voldemort now feels each horcrux being destroyed, which breaks continuity with the other films. Potterites may also mourn the absence of Dumbledore's backstory, but writer Steve Kloves makes sure the supporting cast finally get the screen time they deserve.
"I've always wanted to use that spell!" cackles Professor McGonagall (Smith) after bringing the castle's statues to life, while Snape's (Rickman) flashbacks provide a moving contrast to the narrative's hurtling pace.
Others shine too. Neville (Matthew Lewis) transforms into a total bad-ass, Mrs Weasley (Julie Walters) swears as loudly as Sigourney Weaver, and Ciarán Hinds' gravelly turn as Dumbledore's brother dispels J.K. Rowling's rumours of wizard-goat rumpy-pumpy. Oh, and Ron snogs Hermione's face off.
As things go boom, Alexandre Desplat's score rises to the occasion, weaving in cues from Nicholas Hooper and John Williams as we revisit old haunts, from The Chamber of Secrets to the school's (highly flammable) wooden bridge. Amazingly, Yates still finds time to introduce a new location to the crumbling Hogwarts set; a boathouse with frosted glass windows offers a stylish cover for some unseen slaughter. (Although why wizards would ever use rowing boats remains a mystery.)
But there are quiet moments too: a brief trip to Kings Cross nails the novel's existential notes, while one of the best shots sees Harry sitting, silently, alone on the stairs.
Of course, it all builds up to Harry and Voldemort's big showdown. Impressively, given all the hype, it doesn't disappoint. After a decade watching The Boy who Lived, Deathly Hallows Part 2 is an epic conclusion that wipes out the memory of Harry's earlier false starts. The epilogue is amusing for all the wrong reasons (ridiculous middle-aged beards ahoy), but nothing can dispel the charm of one of British cinema's most successful series.
VERDICT
In the words of Ronald Bilius Weasley, it's bloody brilliant.
What did you think?
( 3 Votes )
Tags:
alan rickman
alexandre desplat
deathly hallows part 2
emma watson
helena bonham carter
julie walters
maggie smith
matthew lewis