Star Ratings
| | |
| --- | --- |
| | Amazing |
| | Well good |
| | Fun |
| | Meh |
| | Rubbish |
| | | |
| --- | --- | --- |
| Film Review: Captain America: The First Avenger | | |
Written by Ivan Radford
Thursday, 28 July 2011 12:29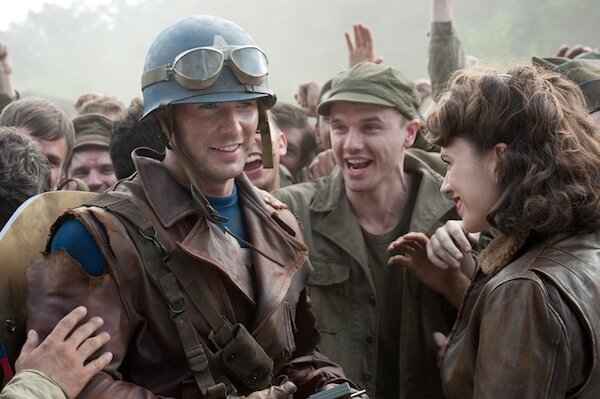 Director: Joe Johnston
Cast: Chris Evans, Hugo Weaving, Tommy Lee Jones, Hayley Atwell
Certificate: 12A
Trailer
Captain America: The First Avenger proclaims the title in Marvel's typical Avengers-promoting fashion. After all the films advertising the 2012 blockbuster, it's a wonder Nick Fury (Samuel L Jackson) hasn't become bored of getting the band back together and gone home to polish his eye patch.
Fortunately, Captain America is worth the wait. But now he's here, everyone wants to know two things: How many Nazis does he kill? And how many times does Chris Evans take his shirt off? The answer to both: not enough.
Steve Rogers (Evans) is a scrawny little kid, desperate to join the army. Why? Because he's a nice guy. We can tell that because he has a side parting. And because he lets other blokes beat him up in the back alleys of Brooklyn. 
Enter crazed scientist Dr. Erskine (an almost unrecognisable Stanley Tucci) and deadpan army Colonel Chester Phillips (Jones). Together, they plan to pump Steve full of the doctor's special man juice and turn him into a butch hero ready to knock out Hitler.
And he does knock Adolf out, 200 hundred times - as part of a stage show designed to raise funds for the forces. Boasting a song by Alan Menken, the glitzy period number is an excellent call from director Joe Johnston; it addresses the campness of the comic books while making the Cap's costume seem more realistic. Plus it's a catchy tune - all summer blockbusters should come with a chorus girls routine. Even Transformers 3.
While Rogers prances about on stage, psychotic Nazi Red Skull (Weaving) is trying to harness the power of the gods to make the Germans unstoppable. He's a fun, unthreatening villain, complete with trashy make-up, a Werner Herzog accent and a Dr. Strangelove-esque assistant (the excellent Toby Jones). Together with Dominic Cooper's Howard Stark, the film's worth watching for the cast of crazy scientists alone.
How can the Captain compete with this deluded, red-faced maniac? Quite easily, it turns out. And this is the problem with Marvel's creation.
For the first hour, Chris Evans is likeable and flawed – even when given the Benjamin Button treatment, he's a better lead than the titular hero. Once transformed, he's infallible. Like Superman, he wins fights just by walking into the room.
As a result, the rest of the film is just a montage of Captain America punching people. And throwing his shield for no reason (hello, post-converted 3D). At one point, he sneaks into a heavily guarded base while carrying a luminous stars and stripes shield – it doesn't matter if he gets caught. He just has to punch a few more people.
Without a better bad guy, Captain America is just another super soldier story. Hayley Atwell does her best as a feisty female love interest, but there's no dramatic tension because there's never any sense of danger. The period detail is great (even the hazy CGI backdrops sort of work) and Johnston captures the laid-back tone of an Indiana Jones adventure, but like Temple of Doom, Captain America can be summed up in three words: Needs. More. Nazis.
VERDICT
Captain America offers shallow, retro fun that makes side partings cool again.

What did you think?
( 3 Votes )
Tags:
avengers assemble
dominic cooper
dr strangelove
hayley atwell
hugo weaving
indiana jones
stanley tucci
the avengers