Star Ratings
| | |
| --- | --- |
| | Excellent    |
| | Very Good |
| | Good |
| | Average |
| | Terrible |
| | | |
| --- | --- | --- |
| Legend of the Guardians: The Owls of Ga'Hoole | | |
Written by Ivan Radford
Tuesday, 19 October 2010 09:41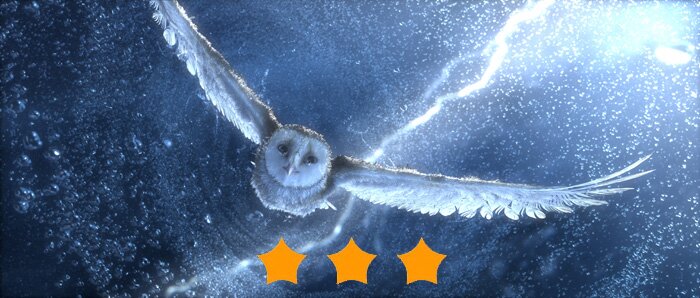 Director: Zack Snyder
Cast: Jim Sturgess, Hugo Weaving, Helen Mirren, Sam Neill, Geoffrey Rush, Joel Edgerton, Abbie Cornish
Certificate: PG
After getting a taste of full-on slow-mo Owl action in Watchmen, Zack Snyder is back to bash birds together in 3D. Based on some books that no-one has ever heard of, The Legend of the Guardians: The Owls of Ga'Hoole is an epic adventure of fluffy, George Lucas proportions.

Soren (Sturgess) is a young owl who dreams of leaving home and joining the Guardians, the owl kingdom's legendary force of good. A bit like Star Wars. The mythical warriors have long held the lands safe from the dark powers of The Pure Ones. Like Star Wars.

Then one day, Soren flies the family nest and gets taken prisoner by evil scouting creatures. Like Star Wars. He escapes from Nyra (a hammy Helen Mirren) with the help of a wise old owl, Grimble (a hammy Hugo Weaving), who encourages him to fly far away to the tree of Ga'Hoole and warn the Guardians of the Pure Ones' plans. Like Star Wars.

Along the way, Soren picks up companions - some of them cute, some unfunny, most of them pointless. Like Star Wars. Trained at the Rebel Base by his hero Lyze of Kiel (a hammy Geoffrey Rush), Soren shows his true flying prowess as he learns to tune his senses to the natural world. Like Star Wars. Soaring through slow-mo wind and rain, he deftly ducks in and out of thermals, riding the wind with impressive agility. "Use your gizzard! Trust your instincts!" shouts Kiel. Like Star Wars.

It turns out the Pure Ones are building a giant metallic device, with the power to destroy an entire world. Like Star Wars. The nasty little beasties are led by Metalbeak (a hammy Joel Edgerton), a disfigured monster who hides behind a mask. Like Star Wars. With Soren's brother defecting to the dark side, an epic showdown shapes up as the Guardians dispatch a fleet of owl fighters, each of them equipped for battle against a fearsome unseen forcefield. Like Star Wars.

Bringing such an original tale to the big screen is no mean feat. Particularly when you're stopping every five seconds to slow stuff down. But Zack's Snydey senses are on fine form here, creating a visual tapestry that's absolutely breathtaking; the feathers rustle with intense detail, the landscape is a luscious backdrop for the lazy script. And, as you'd expect, the action is decent too.

With plenty of metal scraping metal and beaks snapping beaks, Snyder's fantasy is set in a world where animals can somehow weld weapons to their own wings. It's a little violent for kids, but that bloodthirsty streak gives it a satisfying edge. The Legend of the Guardians is a pretty watch - but more importantly it's an exciting one. Even if the magic is little more than a faded carbon copy of something that was made years before. Like Star W-- oh, you get the idea.

VERDICT

Eragon with wings, Snyder's adventure avoids complete Owlmageddon. Derivative, but undeniably thrilling.
Your rating
( 1 Vote )
Tags:
abbie cornish
eragon
geoffrey rush
helen mirren
hugo weaving
jim sturgess
joel edgerton
legends of the guardians
sam neill
star wars
the owls of gahoole