Star Ratings
| | |
| --- | --- |
| | Excellent    |
| | Very Good |
| | Good |
| | Average |
| | Terrible |
| | | |
| --- | --- | --- |
| The Social Network | | |
Written by Ivan Radford
Monday, 11 October 2010 09:14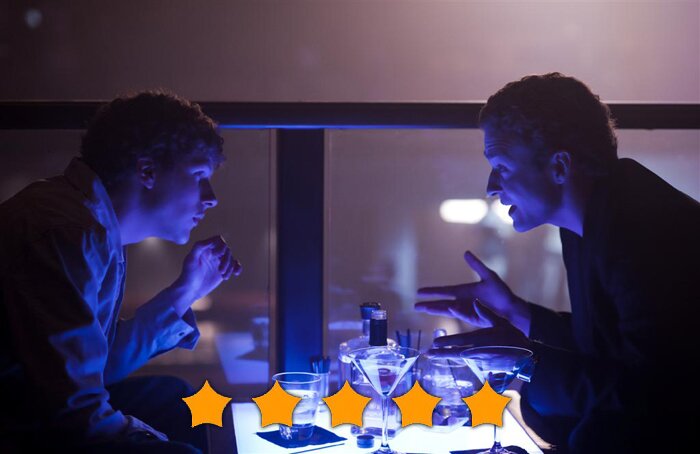 Director: David Fincher
Cast: Jesse Eisenberg, Andrew Garfield, Justin Timberlake, Rooney Mara, Armie Hammer
Certificate: 15
Trailers
A film about Facebook? No-one was convinced when the script first surfaced. Except for David Fincher. And a group of talented young actors who understood what the film was about: them. And the way one powerful idea can transform a generation as much as it can ruin any relationship.

Harvard student Mark Zuckerberg (Eisenberg) is pissed. Not only has he just been dumped by Erica Albright (Mara) but he's been drinking. And blogging too. Within hours, he's compared her to a farm animal and coded a website, FaceMash, to rate college girls. It upsets a lot of people but spreads like wildfire.

Then he comes up with The Facebook, a revolutionary way to connect people across campus. Or maybe he steals the idea from Tyler and Cameron Winklevoss (Hammer), a couple of posh rowing twins who are familiar with the terms money, lawsuit, and intellectual property. Working with best friend Eduardo Saverin (Garfield), it's not long before The Facebook goes to Stanford and catches the eye of Napster inventor Sean Parker (Timberlake). His advice? Drop the "the".

But history isn't that straightforward. Soon, the successful Zuckerberg is under fire from several lawyers, accused of betrayal, theft and financial foul play. As Eduardo and the Winklevi trade legal blows with the egotistical entrepreneur, it becomes apparent that there are three ways to tell this story. And The Social Network tells all of them.

Directed with minimalist efficiency by David Fincher, the visuals are dynamic but pared back. Simple shots mix with a sudden burst of tilt-shift, the cinematography highlighting the rapid rise of Zuckerberg's greed and ambition. This is a slick production, streamlined and evocative, deepened by Trent Raznor's expertly pitched score - a engrossing mix of modern synth and moving piano. As for the cloning of Armie Hammer, it's perhaps the most convincing and seamless CGI of the year.

The ensemble is, without exception, incredible. Garfield invests a supporting role with enough humanity to ground the film's moral core, while Timberlake shakes off Shrek 3 as Parker's powerful Mephistopheles. Eisenberg, meanwhile, is an engagingly selfish presence, always communicating but constantly remote, a nuanced and neurotic loner.

They're a well-oiled trio, overlapping speech and mannerisms with a natural fluency. Together, they bring the writerly material down to the level of the audience. The Social Network is accessible because it's not a film about Facebook. It's about young people screwing each other over to achieve their dreams. Nothing else quite captures this era of online interaction. And when your emotional connection finally ends, you'll just want to sit there and keep hitting refresh.

VERDICT

A convincing case for a 21st Century Charles Foster Kane, The Social Network is a courtroom drama of petty politics and understated genius.
Your rating 
( 2 Votes )
Tags:
aaron sorkin
andrew garfield
armie hammer
facebook
jesse eisenberg
justin timberlake
lawsuit
mark zuckerberg
rashomon
rooney mara
the social network