Star Ratings
| | |
| --- | --- |
| | Excellent    |
| | Very Good |
| | Good |
| | Average |
| | Terrible |
| | | |
| --- | --- | --- |
| Wall Street: Money Never Sleeps | | |
Written by Ivan Radford
Wednesday, 06 October 2010 07:36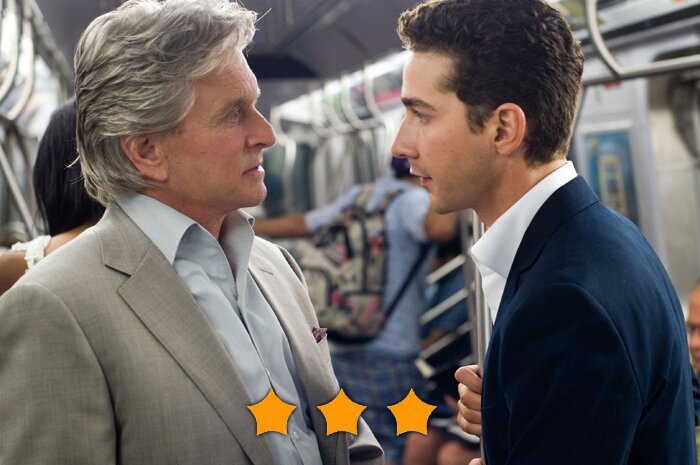 Director: Oliver Stone
Cast: Michael Douglas, Shia LaBeouf, Carey Mulligan, Josh Brolin
Certificate: 12A
Trailer
Twenty-three years on from Wall Street's tale of money, manipulation and Michael Douglas, Gordon Gekko is back for more of the same. Except Money Never Sleeps isn't quite the same old beast. There aren't really any beasts at all. At times, Gordon is actually a bit of a softie. Taking the teeth out of his lead shark, Stone's sequel has a slightly bigger heart and a little less bite.

Fresh out of prison, Gordon is an outsider on the banking circuit. Lecturing the wealthy on the perils of speculation, he preaches his new outlook and sells his self-help book with that same glint in his eyes. It's not long before he enthrals young city trader Jacob (LaBeouf), whose company just went caput. Seeking revenge against aggressive rival Bretton James (Brolin) for his mentor's death, Jacob joins forces with Gekko to turn the stock markets against the evil giant banks.

It doesn't hurt that he's dating Gordon's daughter, Winnie (Mulligan). Introducing the estranged relationship into Gekko's backstory, Allan Loeb and Stephen Schiff's screenplay wears its emotions on its sleeves. And the two talented youngsters do a decent job of acting their arms off. Brolin, too, is a devilish rogue in the mould of Gordon past, Frank Langella is a wonderful presence, while an incredibly on form Michael Douglas does enough 180s to put anyone's moral compass in a spin.

The sheer number of storylines doesn't help you keep track of Gekko's shifting motivations. Charlie Sheen gets a cameo, sure, but the umpteen plots could do with being condensed into one easy-to-manage screenplay. Presenting the stock market with the same glamourous edge, Wall Street: Money Never Sleeps is occasionally at odds with its anti-consumerist attitude (ickle Winnie Gekko runs her own green news website). And when Shia's innocent apprentice learns his harsh life lesson, everything soon turns the right way up again. You could even call the ending feel good.

But Stone still knows how to work a camera. Superimposing stock graphs over the city skyline, the editing on display is top notch stuff. It's just let down by the script's inconsistency. Perhaps if this arrived mid-city meltdown, or even a year ago, it would seem more relevant. With a great soundtrack and overlong runtime, Wall Street 2 is engaging but hardly a revelation. Is greed good? Well, it's definitely not bad. 

VERDICT

Money Never Sleeps isn't the wake up call it wants to be, but the quality cast make Wall Street 2 a safe bet more than a bail-out.
Your rating 
( 1 Vote )
Tags:
allan loeb
carey mulligan
frank langella
gordon gekko
i-flicks
iflicks
josh brolin
michael douglas
money never sleeps
oliver stone
review