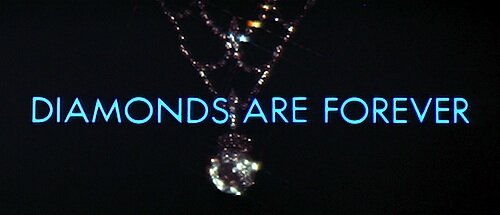 BlogalongaBond. One Bond film a month until Bond 23 in November 2012.
Ah, the 1970s. The decade when Bond lost its way. Bringing back Goldfinger director Guy Hamilton and the familiar (i.e. old) face of Sean Connery, EON did a complete U-turn away from the daring notes of On Her Majesty's Secret Service.
Instead of character and gritty violence, they ramped up the jokes - but these aren't good jokes we're talking about. These are the kind that your drunk aunt tells at a wedding, which you can just about tolerate until she starts joy-riding a moon buggy across Vegas.
Yes, Diamonds are Forever is the film that sees 007 become boring, the one-liners become unbearable, and Blofeld become a woman. Then, halfway through, it turns out the film isn't about diamonds anyway; it's about a giant laser in space. (They could have at least given it a title that made sense, like Lasers Are Forever.) The glitzy garbage is almost enjoyable on a trashy level, but it's best summed up 15 minutes in, when Bond hides from an enemy by pretending to make love to himself in a dark alley. This is what Britain's top spy has come to. It almost makes you look forward to the arrival of Roger Moore. If, you know, it wasn't Roger Moore.
Naturally, this shiny pile of neon-covered bilge comes with two of the most laughable villains of the entire Bond series: Mr. Wint and Mr. Kidd. Bizarrely, these two hitmen are never seen taking instructions from anyone - the closest they get to an employee seems to be providing regular business for Morton Slumber's funeral parlour, which is a front for Blofeld's diamond smuggling ring.
With this ludicrous subplot in mind, I wasn't surprised to discover this pamphlet in the box of my special edition Diamonds Are Forever DVD...