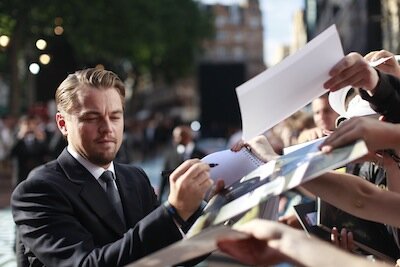 Oh, Leo. Leo Leo Leo. Leo in a tux. Leo out of a tux. I saw everything last night in Leicester Square. Except for that last part. And the fact that I was busy watching The A-Team next door. But our men were filming events as the stars stepped out in London for the premiere of Christopher Nolan's Inception.

The mind-bending sci-fi thriller, which is out in cinemas next Friday (trailers over here), dazzled the capital with its stunning visuals and wonderful cast. But it was the latter on show outside that won over the crowds, who gathered just to get a glimpse of Leonardo in a suit. And out of it too. (NOTE: That bit still didn't happen.)

The sexy Joseph Gordon Levitt, Ellen Page, Michael Caine, Tom Hardy, Marion Cotillard, Ken Watanabe and Cillian Murphy joined the director and DiCaprio to walk up the Inception-style grey carpet and saunter into the packed cinema. But hey, who wants to just read a list of names when you can watch our lovely video? It even comes complete with the World's Greatest Voice-Over Man.

And if that taste of Inception isn't enough for you - let's face it, it'll never be enough until you've seen the film at least five times - you can still drool over the pretty photos. Because nothing says drooling fanboy like a bunch of glossy pictures. Go on, keep reading for both of them. You know you love it.