| | | |
| --- | --- | --- |
| 5 things Woody Allen: A Documentary taught me that I was afraid to ask | | |
Written by Ivan Radford
Wednesday, 20 June 2012 18:57
After days of waiting, my inner Woody Allen obsessive finally made it to the cinema to see Woody Allen: A Documentary. Let's be clear: it's not an incisive, hard-hitting exploration of one neurotic genius' inner workings. The Soon-Yi Preven situation? Yeah, no one really talks about that.
Yes, Soon-Yi appears in the background in some footage from You Will Meet a Tall Dark Stranger at Cannes Film Festival, but does she talk? No. Diane Keaton and Mariel Hemingway pop up to comment, but does Mia Farrow have anything to say? Not a jot. A tweet by her son on Father's Day had more to say about the whole mess than the documentary:

But as a comprehensive overview of one man's career, Robert Weide's is an entertaining and, in places, fascinating piece. It borders on hagiography (Hemingway briefly mentions "the clunkers") and the structure is a little wayward, but it contains enough factual gems to please devoted Woody fans - even the obsessives who thought they knew everything.
Here are 5 things Woody Allen: A Documentary taught me about him that I was afraid to ask:
 
1. Woody Allen used to be hot

If you go for the sexy-specsy geek look. If not, there are some shots of him in a vest before he copied his glasses look from stand-up comic Mike Merrick. He's equally hot.
2. Woody Allen began at The Bitter End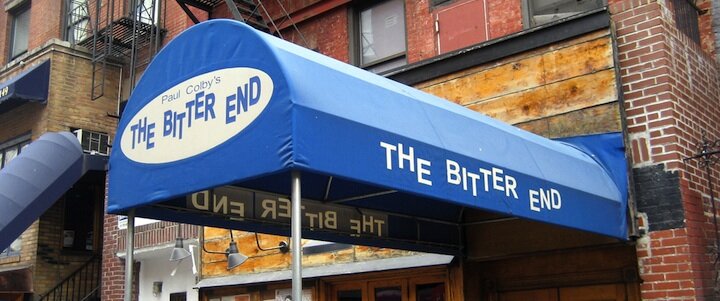 (Photo: Wally Gobetz) 
The Bitter End is a club in New York where Woody began his stand-up career. The surprising thing? He didn't want to do it: he was forced into stand-up by his agents/managers/producers, the Broadway Danny Rose-esque Jack Rollins & Charles H. Joffe. They stayed with him his whole career, but back in the 1960s were convinced that he needed to be an all-round entertainer on their talent books and not just a writer. Without their input, who knows where Woody would have ended up?
3. He once boxed a kangaroo
The key aim of his managers' strategy was to get Woody on to as many TV screens up and down the country as possible, to turn him into a household name. He did that for years before getting anywhere near his first film. Part of that involved this:
4. Annie Hall's split-screen was not a split-screen
"Do you have sex often?" "Hardly ever. Maybe three times a week." "Constantly. I'd say three times a week."
Annie Hall's split-screen scene was a landmark in comedy film-making, but it wasn't actually a split-screen: it was a split set. Cinematographer, and all-round legend, Gordon Willis came up with the idea of literally splitting the production in two with a thin dividing wall and shooting the juxtaposition live. No wonder the timing is so sharp; that's not editing, it's Diane Keaton and Woody's natural chemistry. Gordon is mostly known as The Godfather's DoP, but given that Willis lensed everything from the gorgeous Manhattan (hello, sumptuous silhouettes) to Zelig, with all its visual trickery, his contribution to Allen's aesthetics is just as important in cinema history.
5. Isaac Asimov liked Woody Allen

Isaac Asimov was sent the script for Sleeper by Woody Allen to check if the science part of his science fiction was OK. Asimov loved it and couldn't name a single thing wrong, leaving Allen to bring up cloning on the big screen years before films like Gattaca came along.
More than facts, though, Woody Allen: A Documentary is a reminder of just how many great movies he's made. Hannah and Her Sisters. The Purple Rose of Cairo. Husbands and Wives. Manhattan. Annie Hall. Crimes and Misdemeanours. That's too many masterpieces for one man. And now, if you'll excuse me, I'm off to re-watch them all. And play Woody Allen Top Trumps.
For more fascinating facts, or to brush up on your Woody Allen Top Trumps skills, you can catch Woody Allen: A Documentary at these cinemas. Go see it.
Tags:
annie hall
broadway danny rose
charles h. joffe
gordon willis
isaac asimov
jack rollins
robert weide
sleeper
soon-yi preven
woody allen
woody allen a documentary