Star Ratings
| | |
| --- | --- |
| | Amazing |
| | Well good |
| | Fun |
| | Meh |
| | Rubbish |
| | | |
| --- | --- | --- |
| Woody Allen at the BFI: Hannah and Her Sisters and Zelig | | |
Written by Ivan Radford
Tuesday, 03 January 2012 07:35

If you spotted Midnight in Paris in my Top 11 Films of 2011 or spoken to me at any length about film, you'll be aware that I'm a massive Woody Allen fan. I get that a lot of people aren't, especially after Match Point, but if you're only familiar with his Scarlett Johansson years, then I can't recommend the BFI's current season enough.
Tying in with the official re-release of Hannah and Her Sisters and Zelig by the wonderful Park Circus, the good old BFI are doing a retrospective of his work called "Wise Cracks: The Comedies of Woody Allen". Between now and Wednesday 8th February, they're showing 22 of the director's films - a sizeable 46.8 per cent of his 45-year output. 
The good news? They're starting off with two of his best. The bad news? I'm going to attempt to keep up with them. I'm not going to call it BlogalongaWoody. Yet. But if you're a fellow Woody fan and you do a wee blog about the BFI series, let me know and I'll link to it.
Zelig (1983)
Just when you think you're sick of mockumentaries, you remember this superb gem. A witty reflection on individuality, it reveals the life story of Leonard Zelig, the world's first human chameleon - a disorder that sees him take on the characteristics of all those around him. Stick him with Orthodox Greeks, he becomes an Orthodox Greek. Put him on a baseball field, he miraculously adopts the uniform. 
A Jew keen to assimilate into 1920s America, when such integration was encouraged by society, Zelig finds himself celebrated by the masses. Pop songs are written about him. A dance is invented called The Chameleon. People wish they could copy his ability to fit in. "Maybe then all my dreams would come true," reflects a nameless member of the public. Others, such as the Ku Klux Klan, see him as a terrifying threat.
Of course, scientists are keen to fix him, diagnosing him with all kinds of conditions. "It's something brought on by eating Mexican food," advises one. He ultimately falls in love with Mia Farrow's psychiatrist, who cures him with unconditional affection. This makes him a hero once again - an example of how to be yourself. (Inevitably, a later relapse prompts another surge in national adoration.)
A light-hearted look at conforming, Woody Allen's comedy blends talking heads, including a straight-faced Saul Bellow, and fake stunts with real archive news footage - it's an incredible technical marvel that is full of on-form verbal and visual humour. One sequence sees him at a Nazi rally, waving in the background (complete with trademark spectacles) while Hitler gives a speech. It's a superb sequence in what is an accomplished, smart and utterly convincing triumph.
Go see it - and get everyone else to do the same.

Hannah and Her Sisters (1986)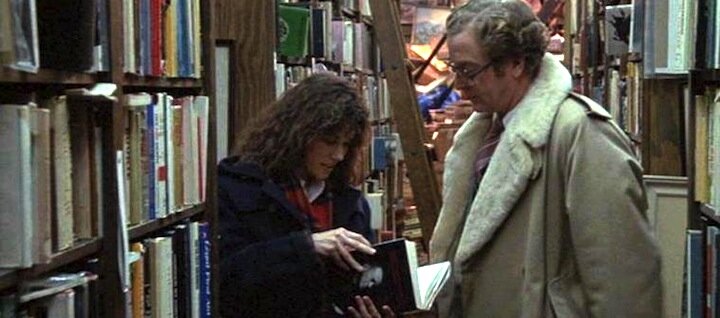 "God, she's beautiful. She's got the prettiest eyes. She looks so sexy in that sweater. I just want to be alone with her and hold her and kiss her and tell her how much I love her and take care of her. Stop it, you idiot, she's your wife's sister."
One of Woody Allen's most mature pieces opens with a camera drifting through a house party, looking at an unsuspecting Barbara Hershey. Finally, it settles on Michael Caine. His voice, even when he tells himself "Easy! You're a dignified financial advisor!", is recognisable, but only just, as he stands there in his frumpy jumper and oversized specs. He plays Elliot, a man married to the titular Hannah (Mia Farrow) and also in love with her sister, Lee.
Elliot's rambling mid-life crisis takes us through this painful and brilliant drama, bringing with it all the confusion and chaos of human relationships. Along the way, we stop off at hotel rooms, bookshops and - in another perfect moment - E.E. Cumming's poem, somewhere i have never travelled, gladly beyond, which Caine reads in a delicate voiceover. (He won an Oscar for this performance.)
We also meet Hannah's other sisters, Holly (Dianne Wiest), who wants to be a writer, and aspiring actress April (Carrie Fisher, in her best non-Star Wars role apart from that cameo in Scream 3). Of course, Allen pops up too as a hypochondriac TV producer, formerly married to Farrow, who wins an imaginary battle with a possible brain tumour only to wind up even more miserable about his meaningless existence.
There's also a lot of fun to be had with Lee's partner, grumpily played by Max von Sydow, who hates people. "You missed a very dull TV show on Auschwitz," he informs Lee, after she returns from a steamy tryst. 
The jumps between rapid-fire comedy and heart-breaking marriages may give the impression of a haphazard, free-wheeling film, but Allen has never been more in control. Chapter headings and careful cuts, all underscored by a repeating jazz standard, are perfectly judged. By the end, he's covered everything from infidelity and creative writing to depression, the Holocaust and the unpredictable nature of human emotion. 
In other words, it's business as usual, but presented is in an accomplished, subtle package that never fails to move. All that and a brief appearance by Home Alone's Daniel Stern as a clueless art buyer? Gary Marshall's/Richard Curtis's multi-stranded romances have got nothing on this.
As the soundtrack repeatedly suggests, Hannah and Her Sisters will leave you bewitched, bothered and bewildered.

Hannah and Her Sisters and Zelig are showing until Thursday 19th January. For more on Woody Allen at the BFI, head to the official Wise Cracks season site.
Tags:
barbara hershey
carrie fisher
daniel stern
dianne wiest
ee cummings
hannah and her sisters
max von sydow
mia farrow
mockumentary
saul bellow