| | | |
| --- | --- | --- |
| Presenting... Woody Allen Top Trumps! | | |
Written by Ivan Radford
Wednesday, 08 February 2012 09:40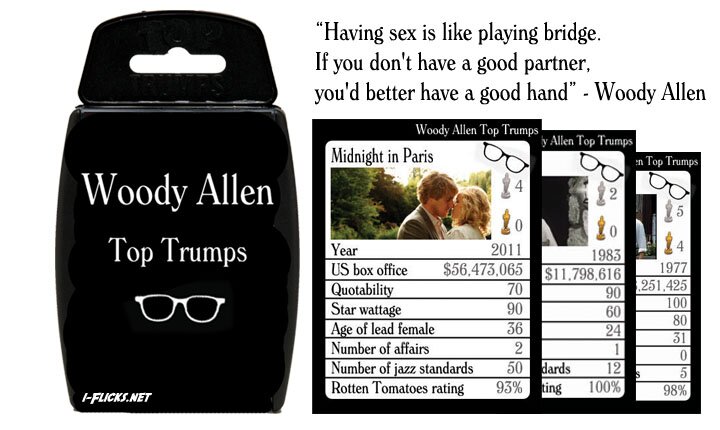 Midnight in Paris came out on DVD this week (here's a review), almost perfectly timed to coincide with the end of the BFI Woody Allen Season (which ends today). After attempting to blog along with the retrospective of one of my favourite directors, I soon realised I didn't have the time. So instead, as a spectacular finale to the whole series, I spent the last couple of weeks gradually condensing all the highs and lows of Woody Allen's film-making career into one easy game of compare-the-statistics fun. 
Spend all your time arguing about which Woody Allen film is the best? Settle the debate once and for all with your own Woody Allen Top Trumps deck. That's right. Woody Allen Top Trumps.
You all know the basic set-up (deal out the pack, pick a stat off your top facing card, read it aloud and whoever has the highest/lowest wins the round). Read on to see which categories are best - then download the full deck ready for you to print off here.
The Rules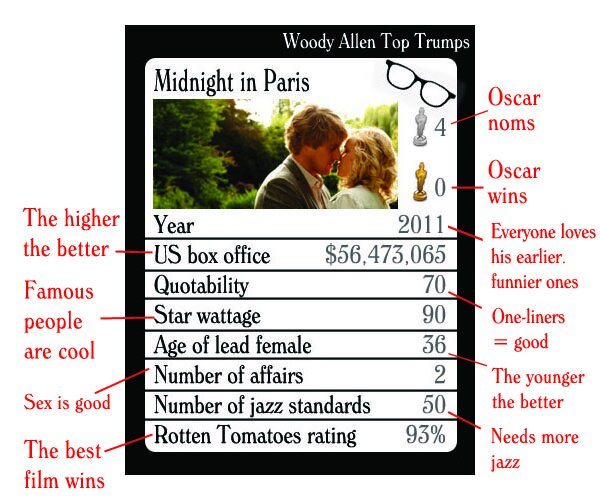 Oscar noms / wins
Obviously, the more bald gold men you see, the better.
Year 
Following the rule that everyone loves his "earlier, funnier ones", aim for the lowest number.
US box office
The more profitable, the better.
Quotability
One-liners make or a break a Woody Allen film. You want the one that people can quote endlessly.
Star wattage
Famous actors all want to work with Woody. You're looking for the most star-studded ensemble.
Age of lead female
In keeping with Woody Allen tradition, the younger the female, the better the sex. The better the sex, the better the film.
Affairs
Cheating on your partner is part of life - in a Woody Allen film, anyway. Whoever has the most extra-marital liaisons wins.
Jazz standards
Jazz standards are in almost every single Woody Allen film. Sweet and Lowdown, for example, is practically a film about jazz standards. Love and Death, on the other hand, barely features any.
Rotten Tomatoes
This one speaks for itself. (In short? Avoid You Will Meet a Tall Dark Stranger.)
Warning: The only category that's wildly inconsistent - and therefore probably factually incorrect - is Number of Jazz Standards, which was cobbled loosely together from IMDb soundtrack listings and this incomplete (but amazing) book. Use it at your peril. (Alternatively, memorise it so you always win.)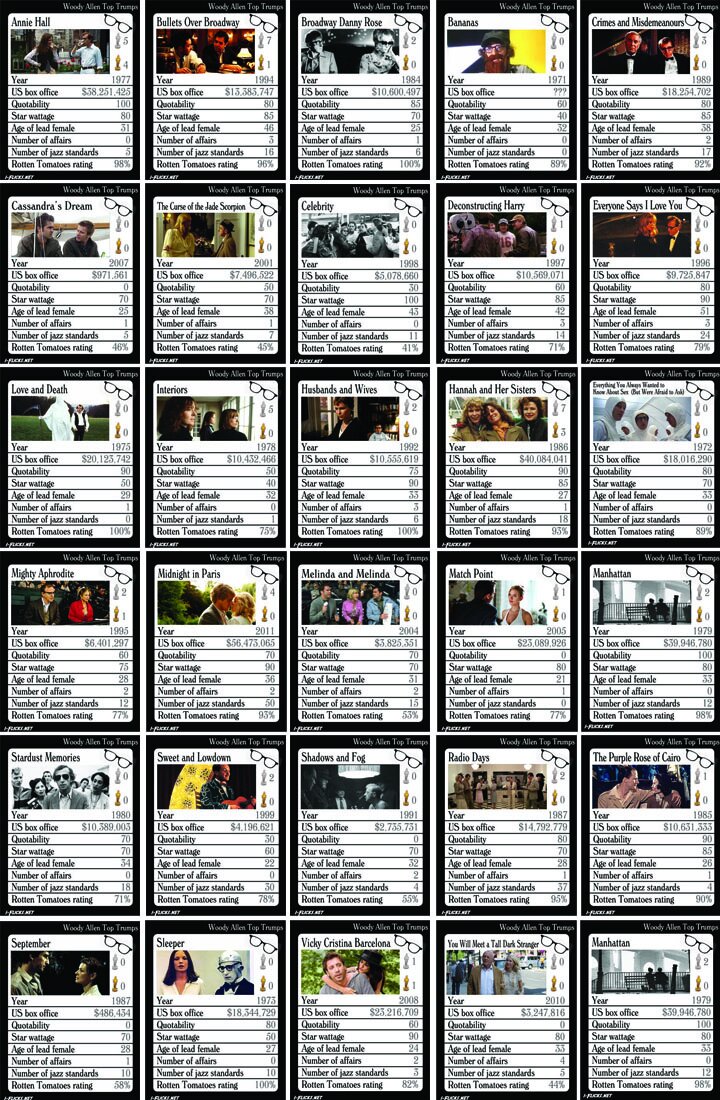 Click here to download the full deck.
Tags:
diane keaton
mia farrow
midnight in paris
woody allen
woody at the bfi