| | | |
| --- | --- | --- |
| Review: The Prince and the Showgirl (1957) | | |
Written by Ivan Radford
Wednesday, 23 November 2011 12:48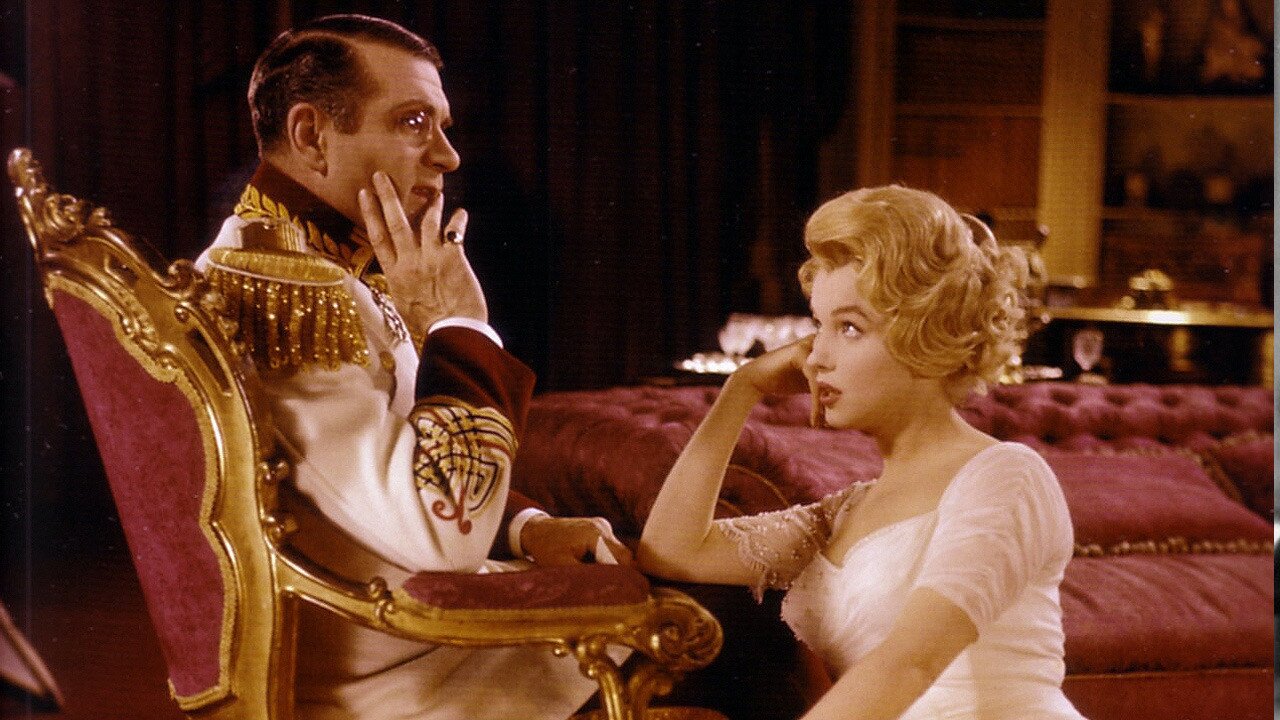 In 1957, Laurence Olivier conspired to bring together two Hollywood legends onto one screen: himself and Marilyn Monroe. His aim? To make a movie that people would talk about for years to come. Fast forward to 2011, and people are still talking about it. But mainly because it's in My Week with Marilyn, Simon Curtis' drama set during the troubled production of Olivier's romantic comedy. 
The Prince and the Showgirl is now considered a minor work in both Monroe and Olivier's careers - stand it next to Henry V and Some Like It Hot and it pales in comparison. But is it an overlooked gem? My Week with My Week with Marilyn continues with a look back at a cute near-classic:
"Gee! This is alright, isn't it?"
That's the reaction of showgirl Elsie Marina (Marilyn Monroe) when she winds up in the Carpathian Embassy in London for a quite supper with the Prince Regent (Laurence Olivier). He's in London for coronation of a new king in 1911, and has one night free to relax. So he dashes off to Coconut Avenue to sample the local delights - and as he meets the grubby cast backstage, out pops Elsie. And so does one of her breasts. Impressed by Elsie's clumsy sensuality (and her breast), he promptly invites her round for tea. And sex. Of course, nothing goes to plan.
Within a matter of minutes, Elsie's on to the Regent's plans for her (and her breast). She wanders through the garish Pinewood sets (purple curtains and gold leaf), standing out in that figure-hugging white dress. She looks simple. She sounds simple. She acts simple. "Why is he called Royal and Imperial? Isn't one enough?" she asks the stiff British butler, Northbrook (Richard Wattis). Northbrook convinces her to stay for the night, only for the Regent's brusque seductive technique (mostly involving drinking vodka and polishing his monocle) to fail miserably.
As the Regent, Olivier has way too much fun. Erupting into shouts in between heavily-accented insults, he rolls his eyes and cackles like a madman. "She has the mind of a backward child!" he lisps, coming across as some kind of horny, idiotic Dracula. If he had a moustache, you can bet he would be twiddling it.
It's the over-the-top performance of a man who knows he's in charge on set. But his thunder is inevitably stolen by Monroe's coquettish minx. "She has as much comme il faut as a rhinoceros!" Olivier yells, but Monroe's charisma stems from exactly that. She dances and sings like a actress waiting for a rich husband, but she's smarter and quick-witted than you expect.
Terence Rattigan's script (based on his own play) dishes out one-liners constantly, letting Elsie run rings around her male suitors. Striving to reunite the Prince Regent with his wayward, radical son (King Nicholas) and stop their political machinations, she plays them off each other, watching them conduct secret phone calls in German with a beguiling innocence. Then she reveals that she could speak German all along, before wheedling her way into the coronation ball.
It's all harmless fun, if a little laboured. The stagey sets (lots of doors) add to the farce, as deadpan servants studiously exit the rooms walking backwards. Olivier and Sybil Thorndike (as his deaf mother, The Queen Dowager) are both overplayed, but that only emphasises Marilyn's natural presence. Even behind the camera, Olivier can't help but turn his lens to admire that trademark wiggle and jiggle. One scene, where she practises a dance routine in an empty study, is simply eye-popping - and, impressively, is recreated almost flawlessly by Michelle Williams 54 years later.
It lacks the zip and effortless sass of Billy Wilder's Some Like It Hot (which arrived two years afterwards and cemented Marilyn's star status) but The Prince and the Showgirl is enjoyable stuff. As an unlikely combination of two major talents, it's a curious glimpse of a masterpiece that could have been. As an indication of just how accurate Simon Curtis' sort-of-semi-non-biopic is, it's a fascinating watch. But as a daft bit of period nonsense, The Prince and the Showgirl joins the list of films that gave everyone (including Sir Laurence) the chance to fall in love with Marilyn all over again. It may end up towards the bottom of that list, but when it comes to Marilyn, the bottom is totally where it's at.
The Prince and the Showgirl is on BBC2 on Saturday 26th November at 12.05pm. For more Monroe goodness, check out the rest of our My Week with My Week with Marilyn articles. Or head this way to read our My Week with Marilyn review.
If you'd like to join in My Week with My Week with Marilyn, tweet @iFlicks your articles and I'll dump them on some kind of Marilyn-themed list. Or something.
Tags:
laurence olivier
marilyn monroe
marilyn week
my week with marilyn
my week with my week with marilyn
richard wattis
simon curtis
sybil thorndike
terence rattigan
the prince and the showgirl