Star Ratings
| | |
| --- | --- |
| | Amazing |
| | Well good |
| | Fun |
| | Meh |
| | Rubbish |
| | | |
| --- | --- | --- |
| Review: My Week with Marilyn | | |
Written by Ivan Radford
Monday, 21 November 2011 08:03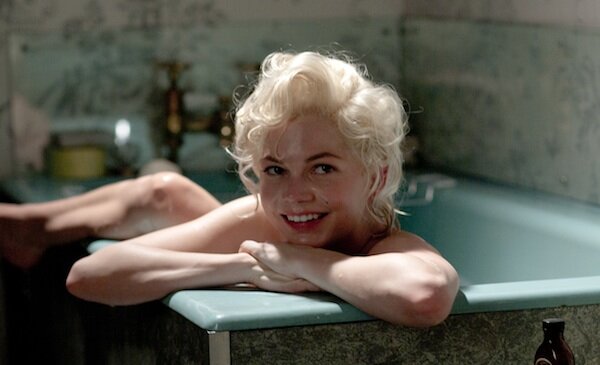 Director: Simon Curtis
Cast: Michelle Williams, Eddie Redmayne, Kenneth Branagh, Julia Ormond, Judi Dench 
Certificate: 12A
It's one thing going into a film knowing that Michelle Williams will get nominated for an Oscar. It's another thing coming out thinking that you just saw Marilyn Monroe alive and well for two hours.
Williams manages the transformation entirely, drawing in everything around her, including Laurence Olivier (Branagh). "When she gets it right, you can't take your eyes off her," Olivier sighs, struggling to directing her on the set of The Prince and the Showgirl. He's right. And My Week with Marilyn is all the better for it.
Simon Curtis' adaptation of Colin Clark's memoirs sees the young Colin (Redmayne) blag his way into a job on Olivier's romantic comedy. Surrounded by A-Listers, he's enthusiastically out of his depth. He even starts dating a wardrobe assistant, Lucy (a convincing Emma Watson).
The troubled production plays out as a quaint comedy of manners, as Dame Sybil Thorndike (Dench) and the eminent ensemble sit around on set, waiting for the Gentlemen Prefer Blondes star to turn up. Three hours later, Marilyn finally arrives - and blows them clean off the screen.
It's no wonder Colin falls in love immediately. Everything's there. The walk. The singing voice. The disarming air of innocence. "Shall I be her?" Marilyn whispers, coquettishly, as Colin and her tour his childhood school on hiatus from the tension-filled film set. She switches from damaged child to seductive screen goddess at the kick of a heel, instantly irresistible to those around her. 
Trying to compete with her glowing presence, Branagh hams it up as Olivier, exasperated at Marilyn's natural charm as his own studied approach sees his career dwindle. Slipping into Shakespeare between shooting, he pretentiously quotes Prospero before shouting at Marilyn's method acting coach Paula Strasberg (Zoe Wanamaker). "Teaching that woman to act is like trying to teach Urdu to a badger!" Branagh splutters, all monocle, make-up and dutiful impersonation.
The rest of the cast are on-form (including Dougray Scott's Arthur Miller and the reliably brilliant Toby Jones, Derek Jacobi and Dominic Cooper), each in turn kind to the insecure actress and sympathetic to Olivier's neglected wife, Vivien Leigh (Ormond). It could all descend into a series of name-dropping, but Adrian Hodges keeps his script trained on Marilyn's fling with Redmayne's likeable lad, giving events an emotional centre that feels authentic, despite Colin's cliched voiceover narration. 
There are no major insights beyond the public and private personas of the pop culture legend, but if Curtis' glossy direction and Hodges' script are full of superficial glitz, it's the perfect platform for Williams to waltz across. She sweeps us along with her sexy wiggle and striking laugh, then discards the false glamour with astonishing intimacy - by the time you've stopped falling head over heels, the period detail of Pinewood's sets barely registers. As Marilyn takes to the stage to book-end events with two steamy song and dance numbers, Olivier's observation is spot-on. When she gets it right, you can't take your eyes off her. All you can think about is jello on springs.
VERDICT
My Week with Marilyn is shallow in parts, but you'll be too busy staring at Michelle Williams to notice. Gorgeous. Captivating. Heart-breaking. Jello on springs.

Head this way for more My Week with My Week with Marilyn goodness.
Tags:
adrian hodges
dominic cooper
eddie redmayne
emma watson
julia ormond
laurence olivier
marilyn monroe
marilyn week