| | | |
| --- | --- | --- |
| The Women Who Tried to Be Marilyn | | |
Written by Ivan Radford
Tuesday, 22 November 2011 17:56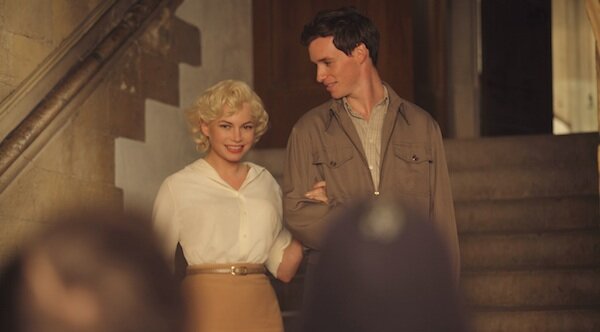 "I'm selfish, impatient and a little insecure. I make mistakes, I am out of control and at times hard to handle. But if you can't handle me at my worst, then you sure as hell don't deserve me at my best."
It's not easy trying to get all of that across on screen, and that's before you factor in the jaw-dropping looks, natural charisma and flair for physical comedy that defined Marilyn Monroe.
But Michelle Williams has one hell of a crack at it in My Week with Marilyn - and she's not the first. Actresses have been trying for years to capture Marilyn's iconic charm in a string of biopics, some fictional, some factual and some downright pants.
And so My Week with My Week with Marilyn continues with some of the women who tried to be Marilyn:
Catherine Hicks - Marilyn Monroe: The Untold Story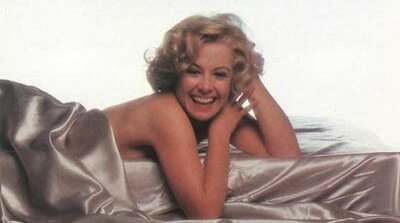 In 1980, Catherine Hicks took on the role of Marilyn for an ABC TV movie. Ignoring the fact that she often looks more like a middle-aged Julia Roberts than the Some Like It Hot star, Hicks manages to get the voice down pat. But her impersonation never quite hits home, bogged down in the laboured script ("Did Mr. Kennedy call?") and worryingly awkward pauses.
"But how can I work with people who treat me like such a… joke?" she asks, pointedly waiting to make eye contact so she can raise her eyebrows and be dramatic. Just look at the following clip. She starts off (as you would expect) in bed, half dead to the world, but her attempts at rising clumsily in a drunken stupor seem more unnatural than adorable.
Then there's the attempt at the girlish charm. She jokes about Miss Monroe sounding like a school teacher, but while her giggle sounds authentic, it's hard to look past the unfamiliar wig and drab dressing gown. As the Guardian rightly pointed out earlier this week, even in a towel, Marilyn looked glamourous.  For all of her vocal skills, Hicks simply doesn't.
Susan Griffiths - Pulp Fiction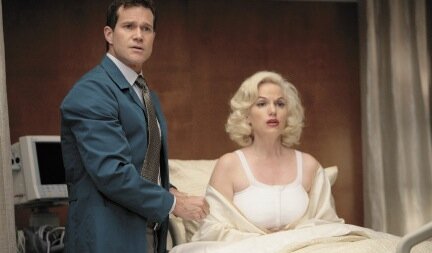 Susan Griffiths is a professional Marilyn Monroe lookalike - and as you'd expect, she really looks the part. She's been Marilyn everywhere from GQ magazine to Mercedes Benz, but you can also get a good glimpse of her in Pulp Fiction at Jack Rabbits Slims.
Presenting the trophy to John Travolta and Uma Thurman in between waiting tables, she has the right curves (note the believably chubby arms) and the make-up, hair and white dress are flawless, but scroll through her showreel to hear her sing (or purr to a smitten car passenger "I'm your tour guide…") and there's something missing.
Combine her and Hicks together and you'd probably have the perfect Marilyn. *insert quote here from someone saying it would take more than one person to ever replace Miss Monroe*
Ashley Judd/Mira Sorvino - Norma Jean & Marilyn
Tim Fywell's 1996 HBO biopic took the smart approach of already starting with two actresses: Mira Sorvino for young Marilyn, and Ashley Judd for old. "Where's your husband, Norma Jeane?" says one male suitor at the beginning of the film. Judd smiles, conspiratorially, "He's overseas. Where he belongs." Then she swings her hips as she strolls to the swimming pool, subtly nailing the nuance of Norma's unpolished sex appeal.
Cut back to her younger days and Mira Sorvino's wide-eyed exclamations sound breathy enough to be endearing, but she's still yonks away from scratching that Seven-Year Itch. "I'm going to be rich. And famous. And powerful," she declares, ruthless and daring: "I'll fuck Bela Lugosi if I have to." Later, she's suitably warm and likeable, but Fywell's decision to focus on Marilyn's inner conflict rather than established biographical facts doesn't make things convincing.
Ask the internet, and people attack the film for being riddled with factual errors, the most bizarre being the incorrect spelling of her name in the title.
An awkward TV production, then, which is hardly Judd or Sorvino's fault - but you can bet your wiggly arse that Marilyn would have improved that production just by walking into the room. The fact that neither actress does speaks volumes about Monroe's unrivalled star wattage.
Michelle Williams - My Week with Marilyn
For my money, the only one on this list that truly manages the transformation. Tying a belt around her legs to replicate the half-drunken walk, Michelle Williams gets everything right, from the cute whispery voice to the assured singing on the set of The Prince and the Showgirl. Alternately clumsy and graceful, she comes to life in the period clothes - bringing out her shape and silhouetted rear end in a surprisingly natural range of comfortable outfits that offer an important (and yet equally sexy) contrast to the bombshell dresses you'd usually see on the screen.
"She was ahead of her time in terms of style. The Fifties look was very much based on structuring and tailoring, but she often chose quite American sporty clothes to wear," costume designer Jill Taylor tells Vogue. "She was the Calvin Klein girl before there even was Calvin Klein."
And yet springy bums and subtle lines are just a part of her everyday charm; Marilyn off-screen feels like a real person, as vulnerable as Williams' damaged housewife in Blue Valentine but always ready to pounce. The drab dressing gown test that Hicks failed? Michelle Williams passes with flying colours. She wins us over even when faced with the obstacle of singing - and most revealing of all? You won't notice she's doing it.
Naomi Watts - Blonde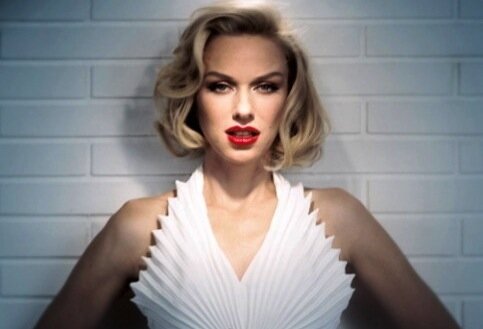 Andrew Dominik's take on Joyce Carol Oates' fictional Monroe memoir is a complete mystery. But if this rough promo image (supposedly cobbled together from photo shoots) from SlashFilm is anything to go by, Watts looks a darn sight closer than Hicks. For some, she's actually closer to Marilyn than Michelle Williams (I disagree - too lupine for my liking), but it's interesting to note her skinny frame, compared to Williams' podgy-faced perfection - if Watts can put on a few pounds or get her costumes to bring out those curves, she might even be the best on-screen Marilyn of all time.
Until then, I'm totally in love with Michelle Williams.
Head over here for more My Week with My Week with Marilyn goodness - or read our My Week with Marilyn review.
Tags:
jill taylor
marilyn monroe
marilyn week
my week with marilyn
naomi watts