| | | |
| --- | --- | --- |
| Yours for £650: Cliff Richard, The World's Greatest Heathcliff | | |
Written by Ivan Radford
Saturday, 12 November 2011 08:34
This week, Andrea Arnold's Wuthering Heights hits UK cinemas. It's a superb, breathtaking adaptation of Emily Bronte's novel, and features the world's first black Heathcliff (Solomon Glave, young/James Howson, old). Alongside the flawless production design, the young Heathcliff gives the familiar doomed romance a whole new edge. In fact, Solomon Glave is probably the best on-screen Heathcliff of all time. 
With the exception of one man: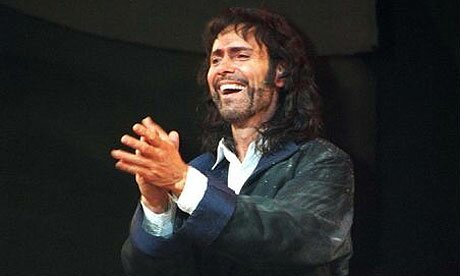 Meet Cliff. He played Heathcliff in 1996. But Heathcliff Cliff wasn't a normal Heathcliff. Heathcliff Cliff could sing. Sort of.
And so could everyone else in the cast. Sort of. With lyrics by Tim Rice (he of Lion King and Technicolor Dreamcoat fame), Heathcliff: The Musical was a classic combination of Emily Bronte's poetic writing - and complete and utter hairy bollocks.
"Burn in hell you filthy gypsy. Share the fate of parasites!" tra-la-las one character, before Heathcliff Cliff sings, in a jaunty style: "I did not love you Isabella, you were a means to other ends. I always knew our ailing offsprings, would never pay us dividends."
It's hardly Evita, is it?
Best of all is Cliff Richard's Taffin-like delivery of the crucial line: "I cannot live without my life... I cannot live without my SOOOOOUUUUL!"
It's a wonder why anyone else has bothered to adapt Wuthering Heights after that. Kate Bush can't compete with Cliff Richard's wailing vocals. You don't even need to read the book: all the pain and suffering is right there on Heathcliff Cliff's face. Underneath his Tesco Value Easy-Adhesive My First Beard.
But Heathcliff Cliff found a warm reception among die-hard Cliff Richard fans (and other stupid people). In fact, 1996's Heathcliff is a limited edition collector's item. Apparently.

Would you pay £650 for a collectible Heathcliff Cliff? The answer, clearly, is HELL YES. I cannot live with my Heathcliff Cliff. Oh, Heathcliff Cliff. You so sexy. Especially when you do this:
Andrea Arnold's adaptation, which is vastly inferior to Cliff Richard's musical tosh, is out now. Head this way to read our Wuthering Heights (2011) review.