| | | |
| --- | --- | --- |
| BFI Spanish Season: Going Down in Morocco (1989) | | |
Written by Ivan Radford
Monday, 27 June 2011 11:40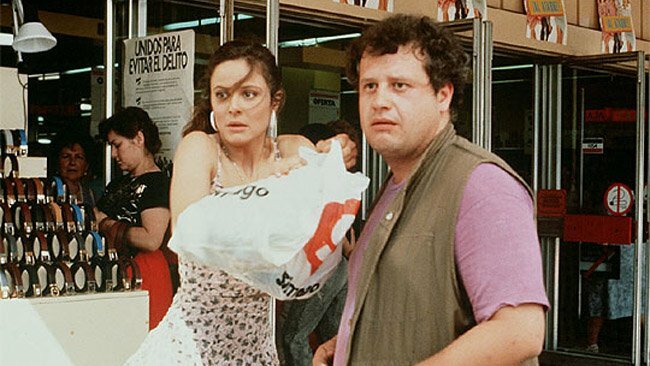 The BFI's Spanish season (Good Morning Freedom! Spanish Cinema After Franco) jumps forward to the late 1980s with Fernando Colomo's Going Down in Morocco - one of the season's post-Franco Spanish movies that isn't by Pedro Almodóvar.
A woman steps off a ferry on her way back from Morocco. She is glamourous, decked out in a colourful dress and hat. She stops, checks her bosom is amply positioned, and strolls onto shore. Then the police turn up and she runs for the nearest toilet to remove the drugs she's got stashed between her legs.
That's the life of an indie dealer in 1980s Spain, if you believe Going Down in Morocco (Bajarse en Moro). And there's every reason to do so. People line the streets of Madrid selling Iron Maiden cassette tapes and U2 key rings (alongside clean syringes) and they joke about the upcoming 1992 Olympics - it's all very much a product of its time.
With a similar feel to Almodóvar's output of the period, Bajarse en Moro is a knockabout urban comedy that consolidated the Comedia Madrileña genre. With Franco gone for over a decade, young directors in Madrid had a host of energetic actors, a wealth of social changes to consider and the freedom to capture it all on video. It was only natural for them to look at the situations facing society's youth through humour. And drugs. Mostly at the same time.
Anyway, back to the woman with hash up her fanny.
Chusa (Verónica Forqué) is a woman who's enjoying life in liberated Spain. Running back and forth to Morocco with her cousin, Jaime, drugs are her business. And business is booming. Cops are still patrolling (and taking a cut of the drugs before they arrest dealers) but fortunately for Chusa, one of them is her boyfriend. That's Alberto (Antonio Banderas). Lying next to him in a sun-kissed bed, Chusa gazes dreamily at his illuminated face. "It's like in an ad," she says, all commercial longing and unbridled lust.
You can hardly blame her. Banderas has a carefree charisma that steals every scene he's in. He spends half the film walking around with his uniform on, looking sexy. The rest of the time, he walks around with his uniform off, looking even sexier. And so it's only natural that Chusa asks Alberto to "make" a new friend of hers, Elena (Aitana Sánchez Gijón), who's a virgin. Then she'll be able to store even more junk in her trunk when Chusa takes her to Morocco.
Of course, Alberto and Elena soon get a little too intimate for Chusa's liking, and hilarity ensues. This inevitably involves someone getting shot.
Colomo's screwball script proceeds in amusing fashion, matching the sight gags with some solid verbal jokes: "If you listened to me, you wouldn't have grown up to be a Yankee!" "It's junkie, mum. Not Yankee." Along the way, it takes in everything that modern Madrid has to offer.
There's the priest next door, whom they steal food and drink from because the church pays his bills. Not that he minds - he's more concerned with cocktails. Then there's Alberto's mother, a kleptomaniac who swipes everything from clothes and lighters to handkerchieves and bibs. Lots of bibs. As for Elena's mother, all you need to know is that she drives around town in a car that looks like a shark. As one does.
All the while, a band (Pata Negra) play loud music on their balcony across the street, a toe-tapping combination of Jimi Hendrix and flamenco guitars. Wearing glittering pirate hats and annoying the neighbours, they offer a literal soundtrack for the city backdrop - a nice touch that somehow makes all the silliness seem that bit more realistic.
The plot meanders in the final third as Chusa finds an old flame (whose brain is so drug-addled that he can't remember her) and the quartet's messy sex life takes things into a serious, almost moral, territory. But even when junkies turn up dead from overdoses, Bajarse en Moro's 83-minute runtime zips along lightly thanks to Pata Negra's lively accompaniment.
That and the fact that most of those 83 minutes can be spent admiring a young Antonio Banderas on steaming hot form. Going Down in Morocco may have helped to start the Comedia Madrilena movement in post-Franco Spanish cinema, but Antonio Banderas in a police uniform? That started a movement all of its own...
Going Down in Morocco is showing as part of the BFI's Spanish season on Tuesday 28th June.
Good Morning Freedom! - Spanish Cinema After Franco runs until Thursday 7th July. 
Tags:
antonio banderas
comedia madrileña
going down in morocco
spanish cinema
verónica forqué