| | | |
| --- | --- | --- |
| BFI Spanish Season: What Have I Done to Deserve This? (1984) | | |
Written by Ivan Radford
Thursday, 23 June 2011 13:29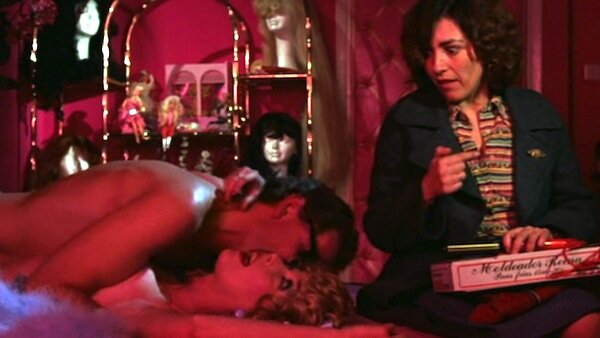 The BFI's Spanish season (Good Morning Freedom! Spanish Cinema After Franco) continues this weekend with another Pedro Almodóvar movie – a reminder of his significance in the movement of Spanish cinema after Franco.
Almodóvar's fourth film, What Have I Done to Deserve This? (or ¿Qué he hecho yo para merecer esto?) sees a shift away from his earlier madcap moviemaking towards the dark domestic comedy of his later work. Following put-upon housewife Gloria as she struggles to keep the family (and herself) together, it's partly a critique of society's patriarchal structures that were at their height under Franco.
Trying to make ends meet, Gloria befriends her neighbour, a prostitute called Cristal. "I don't want you hanging around her," demands Gloria's unfaithful husband, "she's a whore!" Gloria looks bluntly at him. "So what?"
It's this defiant portrayal of females that typifies Almodóvar's work, something that his muse Carmen Maura always portrays well in the lead. Refusing to be trodden down, the film starts off with her doing a light spot of ninja training with a giant stick. Which, naturally, leads to some full-on shower sex.
It's only 45 minutes later that she's confronting her husband about his desire for his former female employer and clobbering him over the head with a frozen leg of ham.
These odd details offer a nice contrast to the realistic confines of Gloria's life. So while our housewife heroine spends her time ironing shirts and putting up with her fairy cake-obsessed mother-in-law, surreal events flit past in the background. There's her 14 year old son, Toni, who deals drugs in his spare time. And her neighbour's daughter, a redhead with telekinetic powers. And, of course, her other son, Miguel, who's gay and she sells to the dentist.
Add to that her husband's former employer, who is planning to forge a diary of Adolf Hitler, and you can see that Almodóvar's bonkers sensibility has a reason: all of them are refusing to conform to their roles in a post-dictatorial society.
While technically, the presentation isn't as sharp as his future work, you can see the structural threads of melodrama coming together for the first time. The director situates his bizarre subplots in a more mature context than Labyrinth of Passion, but uses that to highlight his flashes of absurdity – one background vignette is a hilarious satire of a coffee advert, which segues smoothly from sexual suggestion into a face-scalding Harvey Dent impression. This is an artist celebrating his freedom to subvert with an unnecessary flourish, simply because he thinks it's funny. (He's right: it is.)
What Have I Done to Deserve This? was the first of Almodóvar's films to receive international distribution. Audiences from abroad could surely tell from the brilliant fusion of serious drama and subtle farce that it wasn't long until the director's first masterpiece, 1988's Women on the Verge of a Nervous Breakdown.
What Have I Done to Deserve This? is showing as part of the BFI's Spanish season on Saturday 25th June and Thursday 30th June.
Good Morning Freedom! - Spanish Cinema After Franco runs until Thursday 7th July.
Tags:
carmen maura
comedia madrileña
labyrinth of passion
pedro almodovar
spanish cinema
what have i done to deserve this