| | | |
| --- | --- | --- |
| BFI Spanish Season: Labyrinth of Passion (1982) | | |
Written by Ivan Radford
Saturday, 11 June 2011 12:00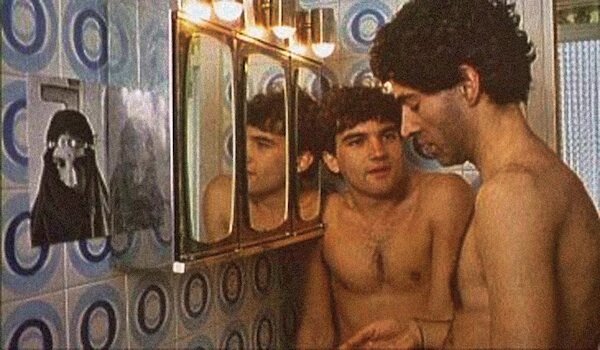 This month saw the beginning of a new season at the BFI: Good Morning Freedom! - Spanish Cinema After Franco.

It catalogues, as the title suggests, Spanish films in the post-Franco years, including the re-release of Carlos Saura's Cria Cuervos. (The director's doing a Q+A this evening if you're near the Southbank and fancy listening to a key filmmaker talk about his career.)

As I've said before, I don't write enough about Spanish cinema, which I'm a rather big fan of, so I'll be dipping into the BFI's Spanish film programme, which runs until the beginning of July, to give you a rough idea of what to expect. First up? Pedro Almodóvar's Labyrinth of Passion.

It's only natural that the first film I waffle on about is by old Pedro. Over the past thirty years, he's been one of the central – if not defining – figures in Spanish film. Raised in rural Spain and sent to religious boarding school, Almodóvar ran away from his family to Madrid at the age of 18, aiming to be a film director.

He arrived during the height of General Franco's right-wing regime. Society under Franco was oppressed and austere. Doctors, lawyers and artists left the country (Luis Buñuel ran between France and Mexico to make his movies), leaving Almodóvar to fall in with the counter-culture scene.

Fast-forward ten years and Spain was waking up after Franco's death in 1975. With a new freedom of expression, the left-wing artistic movement (La Movida Madrileña) took to the streets – and, presumably, ran around with their clothes off.

Accordingly, Labyrinth of Passion opens with a direct shot of someone's crotch.

Pedro's second film, Labyrinth is a screwball comedy about sex, drugs, terrorists, cross-dressing, psychotherapy, airports and sex. And drugs.

Flirting with 50 different odd characters around Madrid, it follows the son of an exiled Middle Eastern Emperor, Riza, as he walks the streets (in disguise) hoping for some nice gay sex. He finds it. A woman, meanwhile, is doing exactly the same thing. Clearly, they're destined to fall in love and move together to another country. I mean, clearly. It's obvious, right?

In another part of town, some terrorists are planning to kidnap Riza. But they don't know what he looks like. Or where he is. The solution? Antonio Banderas turns up (in his screen debut) to track Riza down with his supernatural sense of smell. As you do.

In the meantime, Riza becomes Johnny, a transvestite rock singer in Madrid's nightclubs – where, if you look closely, you can spot Pedro making a cameo appearance as the club's owner. Inevitably, he's in drag.

While that happens, another girl is being systemically raped by her father every other day after his wife left them both. He takes aphrodisiacs in between running his dry cleaning shop, while she drugs his tea in the hope to avoid a bit of how's your father.

In any other movie, this would be offensive, objectionable content. But somehow, through the sheer force of pure nonsense, Labyrinth turns it into an amusing occurrence that just happens to be going on in the background while Antonio's nose sniffs out his target. He eventually tracks him down. And they have sex - yeah, baby, that's how the young Antonio Bandeas rolls. Spy Kids has got nothing on this.

In the middle of it all is a doctor who specialises in artificial insemination – a man who doesn't believe in the virtues or joy of sex. Pedro soon sorts him out. But while his sexual awakening is vital to the ensemble, he has a daughter called Sexilia (Celia Roth – a frequent star in Almodóvar's movies). She's very important. Not only because she's the sex-mad woman Riza is destined to fall in love with, but because her nickname is "Sexi".

So while everyone runs about like headless chickens on heat, people walk in and out of rooms saying "Hola, Sexi," and "Adios, Sexi!" and "Como estas, Sexi?" Just, you know, because.

There's no story to speak of really. It's just one big crazy, random happenstance. It climaxes in a wonderfully Freudian shot of a plane, ascending higher and higher into the sky as a woman screams out in orgasmic pleasure. More than anything else, this is a tapestry of horny, messed up Spaniards in a city where desire spills out into the streets.

And that's why Labyrinth of Passion is a massive part of La Movida Madrileña. It's not structured, it lacks the maturity of Almodóvar's later work, but as a splurge of excitement on celluloid, it's exactly what Spanish cinema needed at the time.

Playing out like a debauched Woody Allen movie taken to farcical extremes, Labyrinth of Passion is an ode to sexual freedom, artistic expression and sex. But mostly just sex.

Labyrinth of Passion is showing tonight and tomorrow at the BFI as part of Good Morning Freedom! – Spanish Cinema After Franco.
Tags:
antonio banderas
celia roth
comedia madrileña
labyrinth of passion
pedro almodovar
spanish cinema