| | | |
| --- | --- | --- |
| Bourne Meets Inception - The Ultimate Meaningless Poster Quote | | |
Written by Ivan Radford
Monday, 07 March 2011 08:01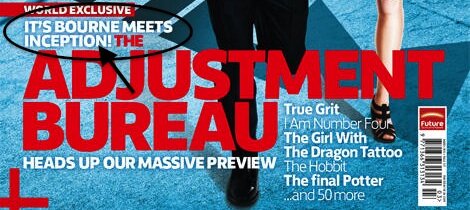 Folks presumably queued round the block last weekend to see The Adjustment Bureau, the film that suddenly EVERYONE was calling "Bourne Meets Inception!" since TotalFilm coined the phrase (which is pretty much meaningless) and someone slapped it on the poster.

Things got even worse when people started describing Liam Neeson's thriller Unknown as "Bourne Meets Taken" - presumably because it features Liam Neeson and involves someone forgetting something. In which case, you might as well call it "The Lion, The Witch and the Wardrobe Meets Memento".

But what if people don't want to see Bourne Meets Inception or Bourne Meets Taken? Never fear: you can describe literally EVERY FILM EVER MADE as "Bourne Meets" something. Just insert any word you want. Bourne Meets Casino. Bourne Meets Public Transport. Bourne Meets Cheese Sandwich. It really is that easy.

Here are a few ideas, just in case you need to describe a film to someone in the next week...
| | | |
| --- | --- | --- |
| |   | |
| "BOURNE MEETS UNKNOWN!" |   | "BOURNE MEETS THE ADJUSTMENT BUREAU!" |
|   |   |   |


 
 
 
 

"BOURNE MEETS YOUR MUM!"

 

 

"BOURNE MEETS JESUS!"

 

 

"BOURNE MEETS MOUSTACHE!"

 

 
 
 
 
 


 


 



"BOURNE MEETS NELSON MANDELA!"

 

 

"BOURNE MEETS BUS!"

 

 

"BJORN MEETS BOND!"

 
Your homework for the week: describe at least two films in terms of their likeness to the Jason Bourne franchise.
Tags:
jason bourne
liam neeson
matt damon
taken
the adjustment bureau