| | | |
| --- | --- | --- |
| BlogalongaBond: For Your Eyes Only (1981) | | |
Written by Ivan Radford
Friday, 30 December 2011 07:26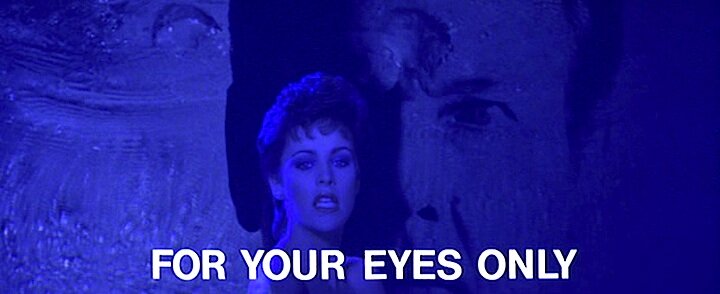 BlogalongaBond. One Bond film a month until Bond 23 turns up.
I make a point of always trying to watch a film to the end, even Horrid Henry: The Movie. But with For Your Eyes Only, I did something rare: I stopped watching. Out of sheer boredom. For the rest of Christmas, Roger Moore's smug face taunted me from his DVD over the top of my turkey with a reproachful wink. (Timothy Dalton would never do that.)
A casual jog after Moonraker's sprint through fountains of spraying crap, For Your Eyes Only tried to scale things back and give 007 something more down-to-earth to deal with. It begins this grounded approach by killing off Blofeld with a remote-controlled helicopter while 007 makes jokes about his hair. 
A fresh start for the franchise? Not quite. Instead, the 12th entry in the series is the one thing worse than laughable: it's completely forgettable. There's a lost encryption device, a woman wanting revenge, a young girl ice skating... Even with impressive stunts, a bobsleigh set piece and a neat Citroen car chase, it couldn't be more boring if you recited the plot in the middle of a lecture about the Eurozone crisis hosted by Orlando Bloom.
Returning to the DVD a few days later, I discovered I couldn't remember what was going on. I was sure that at some point in the last 30 years someone had made a film called For Your Eyes Only - and that I had definitely watched it - but for the life of me couldn't remember a single thing about it. A lot like Quantum of Solace.
Ok, that's a lie. I can remember one thing: the theme song. Beginning with Bill Conti's titular five-note fanfare of gentle synth pop, it buried into my brain like an advert for Lenor fabric softener, quietly calling out at 3am: "You must keep watching…"
Clearly someone out there thought it was a good song – alongside Live and Let Die and Nobody Does It Better, it's one of the few Bond songs to be nominated for an Academy Award (allowing the film to be called "the Oscar-nominated For Your Eyes Only"). Conti did a decent job, then, of rousing the awards voters. How did he replace John Barry to successfully create such a crucial element in the Bond formula? Well, it turns out he had this informational pamphlet in his pocket – an up-to-date version of which I coincidentally found in my DVD box.
Here's a guide to writing a Bond song...
How to Write a Bond Song
So you want to write a Bond theme song? I don't blame you. Everyone's had a go, from Madonna to Paul McCartney. Heck, even Bono wrote Goldeneye (yes, really). You may think there are lots of different types of Bond songs, but whatever period you're in, there are certain steps you have to follow to give it that signature franchise feel…
Pick a style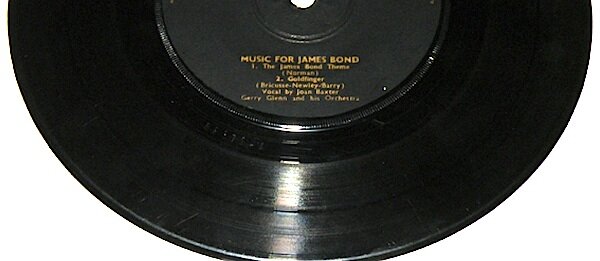 There seem to be three main styles of Bond songs. There's the big band number, established by John Barry with Thunderball and Goldfinger. There's the straight love song, which defined the 1970s and 1980s. And then there's the more obvious pop song, which ranges from the 60s-steeped Live and Let Die and 70s-heavy The Man with the Golden Gun all the way to Duran Duran's 80s-tastic A View to a Kill and even further to Madonna's Die Another Day.
Your style will usually be chosen for you by the year in which you're living (take that, McCartney), although recent Barry-esque tunes such as Goldeneye prove that you don't have to pay attention to the calendar on your wall.
Keep the time signature simple

Four beats in a bar. That's the rule. From Barry to Bono, composers have stuck hard and fast to this simple time signature. For Barry, this was never a restriction – the contrapuntal rhythms that jump all over the On Her Majesty's Secret Service theme show how much you can do with a seemingly boring bar. But don't feel you have to be that ambitious; people in the 70s and 80s love a romantic ballad, so playing safe will keep them happy. Hell, it could even get you nominated for an Oscar.
(The only Bond song to break the 4/4 convention is Sheryl Crow's Tomorrow Never Dies, which opted for a 6/8 time signature, making it one of the most unique themes of the franchise).
Get a female singer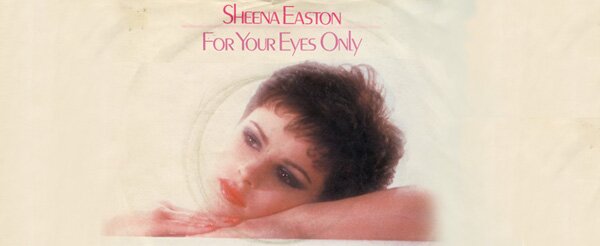 A female pair of lungs can give proper wind to a tune. If you can get Shirley Bassey to sing your song, you're sorted. If not, anyone with a pretty set of pipes will do. Try and find someone popular with audiences – that Shirley Easton's been getting some positive reviews lately - and remember: even Tom Jones sounds like a woman.
Mention the title

If you don't mention the title of the film, no one will know what Bond song you're composing. Of course, there are some exceptions (All Time High. You Know My Name and Another Way to Die) but it's best to stick with tradition. Even better, squeeze that title into the first line of every verse, just in case people are really thick. Bonus points if you can do so at the expense of making any logical sense - scientists have been puzzling over the meaning of Moonraker for decades. "Just like the Moonraker goes in search of his dream of gold"? Whatever.
Hire Don Black

While you try and find a way to force in the title, you'll need someone to write the words. And that someone might as well be Don Black - John Barry's Thunderball writing partner and the go-to guy for everything from Diamonds Are Forever to The World Is Not Enough. By the time Tomorrow Never Dies rolled around, he was well at home: "Darlin' you've won / It's no fun / Martinis, girls, and guns..." Alternatively, pick some random screenwriter like Michael Leeson and see where that gets you (an Oscar nomination, apparently). 
Have a grand opening

For Your Eyes On-ly. That title easily lends itself to a five-note intro. Plus jumping down a major fifth like that would fit in nicely with the other intervals used over the years. Goldfinger, for example, has that iconic major third blasted out by brass instruments – something aped by Licence to Kill years later.
Arpeggio build-ups to these loud outbursts sometimes work too. You Only Live Twice, Licence to Kill and From Russia with Love have almost identical opening runs before their crescendo climax. Never one to be outdone, Barry's Thunderball combines both of these tactics to memorable effect. But again, don't try to be too ambitious – especially if you're wasted on rubbish like For Your Eyes Only. Best stick to those boring synth notes and leave it at that.
Shove in a piano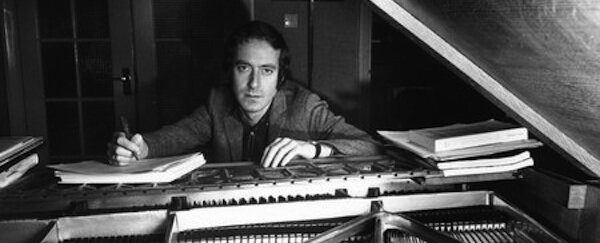 We all expect some brass and strings, but everyone loves a piano. If you want to be remembered as one of the great Bond composers, shove in some keyboard action. Orchestras are important for an epic sense of scale and a twangy electric guitar will get that Vic Flick vibe going, but pianos are essential, especially if you're stuck in the 70s or 80s. Nobody Does It Better is famous for its twinkly intro, while Live and Let Die depends on it for that Beatles-esque feel. And if you listen carefully to the chaotic noise of Another Way to Die, you'll hear a piano in there somewhere too. Probably screaming in pain.
Always have a chorus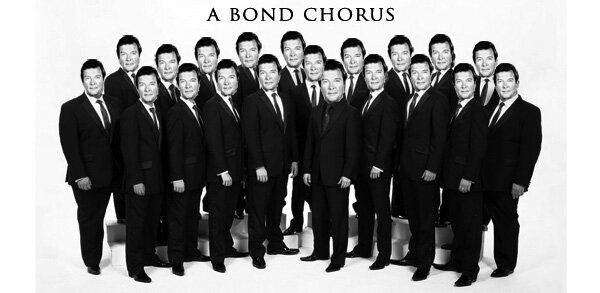 Despite their different appearances, styles and orchestrations, at heart Bond themes are all basically pop songs. They have introductions, verses, middle-eights and, most important of all, a chorus. Whether you're serenading someone's Licence to Kill or declaring The World Is Not Enough, a chorus will stick in your audience's head when there's nothing else memorable about your song (or, in this case, movie).
Go out on a high

Like most ballads and pop songs, it's important to go out on a high. Put in a key change (Licence to Kill), a repeated chorus (TWINE), or use the last line as a coda (Nobody Does It Better) to finish things with a bang. Failing that, just get Shirley Bassey to hold on a high note for a couple of years. Then get Tom Jones to do the same and laugh at him when he faints. Chris Cornell shouting is also an option. 
All of this was superbly imitated by Weird Al Yankovic's title song for Leslie Nielsen spoof Spy Hard - especially the fainting part (see below).
Use the Bond theme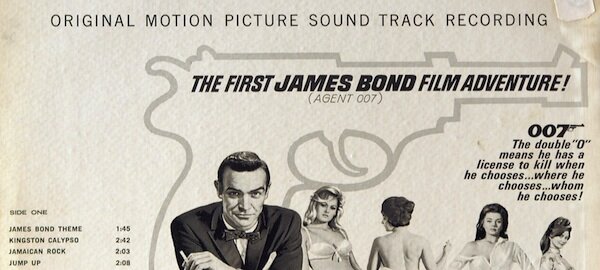 This is a tricky part, but it's also one of the most important. Getting the switch from minor to major (mostly by moving the tonic chord's fifth note up and down) is a direct reference to Monty Norman's definitive Bond theme from Dr. No (fleshed out by John Barry's tonally devious arrangement). Loads of other bits of music use that specific chord sequence (But For Now by Jamie Cullum randomly springs to mind) but it's an instantly recognisable Bond trademark - as is that iconic final blues sting, with a 9th and 6th shoved in to keep things edgy.
Remember David Arnold's inspired decision not to use the Bond theme for Casino Royale? Listen to You Know My Name again. Why does it feel like a Bond song? Partly because alongside the constantly shifting background chords, the chorus seems to use Barry's iconic four-note pattern as the base for its main vocal line (more on Bond scores another time).
Of course, you may not be able to fit that familiar sequence into your Bond song. Maybe you just can't be bothered. But if you're going to leave it out, make sure you do it for a Roger Moore film, when everyone will be too bored to notice. 
Copy everything else

If in doubt, just steal things from all the other Bond films before you. That's what the Roger Moore movies did for their scripts – it's hard not to notice during For Your Eyes Only that you've watched exactly the same movie six times in a row. It's the same for the Bond songs. What do All Time High (Octopussy), For Your Eyes Only and Moonraker have in common? They're all the same song. You Only Live Twice and Nobody Does It Better gave them ideas to steal and Licence to Kill in turn copied them in 1989.
So, now we're all singing from the same hymn sheet, you'll be composing Bond songs to rival John Barry in no time. In short, write something sounding like this and you'll be fine:
BlogalongaBond will return next month in The Spy Who Loved Me. For more BlongalongaBondness, head this way.
Tags:
bill conti
bono
chris cornell
david arnold
diamonds are forever
don black
dr no
for your eyes only
goldeneye