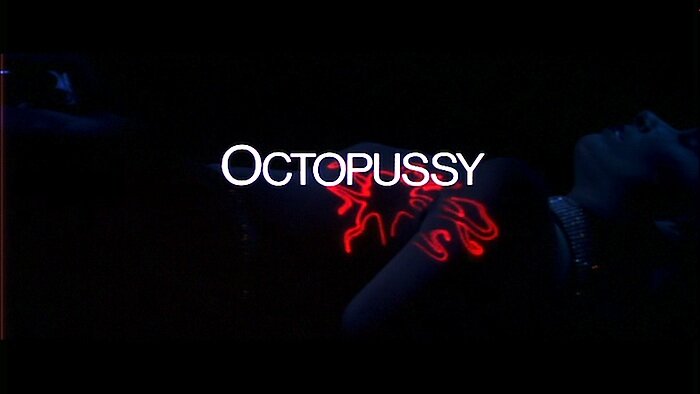 BlogalongaBond. One Bond film a month until Bond 23 turns up.
Bond walks out of an Indian casino. He tips one of the waiters. "That will keep you in curry for a few weeks," he says.
Octopussy is a weird Bond film. In between its casual racism, hollowed-out crocodile boats and islands full of scantily-clad women, there's an almost-discernible plot. It moves from a fake Faberge egg in a rather neat auction scene (taken from Fleming's short story) to nuclear warheads at enough speed to trick you into thinking it's an intelligent story. The problem is that it does this via casual racism, hollowed-out crocodile boats and an island full of scantily-clad women. And, at one point, Roger Moore dressed up as a clown.
As always, the stunts are impressive, but when an ancient Roger Moore constantly sends himself up because even he realises it's impossible to take him seriously, you've pretty much hit the bottom of the franchise. He used to look like a vampire feasting on young, unaware virgins. Now, Moore's Bond looks like a corpse, animated by Cubby Broccoli for his own sick amusement. In one scene, Bond is chased by an elephant. It's hard to tell them apart. Yes, Steven Berkoff's psychotic General is wonderful and the return of Maud Adams is a welcome sight, but neither are enough to wipe out the memory of Roger Moore swinging through the trees and emitting a loud Tarzan yell.
Octopussy is big. But it's certainly not clever.
Fortunately, just as Moonraker was rescued by the fact that it actually ends, Octopussy benefits from a typically impressive title sequence. Why single these credits out from the franchise? There are better openings to analyse (an honourable mention here to Daniel Kleinman's recent work from Goldeneye to Casino Royale) but it's either a Maurice Bender tribute now or a look at John Barry's excellent score – and the music is one of the few good things I can talk about next month in A View to a Kill.
So, how can you follow Octopussy's example and make your own iconic 007 introduction? Here's a handy guide to designing your own Bond title sequence, written by the expert...