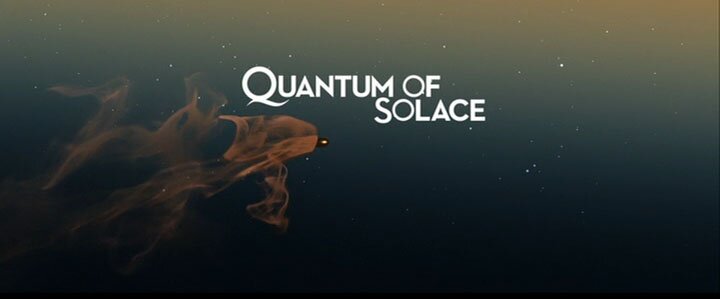 BlogalongaBond. One Bond film a month until Skyfall comes out tomorrow. (OH MY GOD SKYFALL IS OUT TOMORROW! AT LONG LAST. ALL THAT ROGER MOORE WAS WORTH IT.)
It wasn't without excitement that I went into Quantum of Solace. After Martin Campbell's brilliant Casino Royale, Bond's return was a cinematic event worth salivating over. Even the choice of Marc Forster seemed promising - an arthouse director helming a blockbuster? What a grand idea!
But while Daniel Craig's craggy, emotional 007 remained a captivating hero - more a landmine than a lead actor - everything else was kind of, well, dull. There are good bits, let's be clear on that. The environmentally-aware Bond villain (an amusingly whiney Mathieu Amalric) and double-crossing CIA plans are proper shades of grey stuff, but while the set-up is promising, Quantum forgets to add a plot. Was it the writers' strike that left them without the time to finish writing the film? Whatever the reason, the end result was a Bond movie with 25% of a script and 75% white noise. So they did what any blockbuster would and filled it with action.
That wouldn't be a problem if it was good action. But it isn't. Like Yakult, there are good types of action and bad types of action - and this is the bad type. The kind you wouldn't want anywhere near your body, just in case it blew up sideways and chopped your face off.
And that really is how you feel for most of the runtime. The opening begins with a glorious tracking shot over an Italian lake, carefully intercut with shots of Bond's Aston Martin. But once that shot is finished, the footage is over-edited to shreds. With the exception of one crosscutting night at the opera, the set pieces are so kinetic that you can't tell what's happening; a tin of tuna could direct a better action sequence. At least it would be stationary. At one point during that opening car chase, it looks like Bond drives off a cliff and explodes to death. When Bond finally stops and says it's time to get out to his shaken and stirred passenger, he's not the only one ready to leave.
It wasn't without excitement that I went into Quantum of Solace. It was with confusion that I left.
So what went wrong? Two things: Matt Chesse and Richard Pearson. How did the editors screw up so badly? They probably read this informative pamphlet I found in my DVD box...