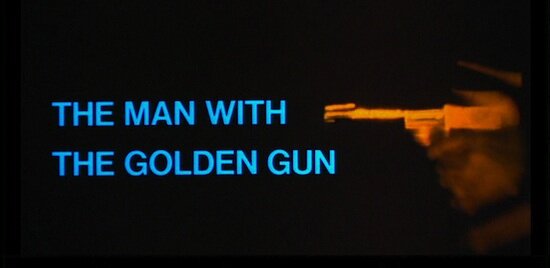 BlogalongaBond. One Bond film a month until Bond 23 turns up next year.
It's 1974. Moonraker doesn't exist yet. But Guy Hamilton doesn't let that stop his own attempt at making the worst Bond movie of all time. And he's astonishingly successful, producing a solid gold piece of turdy cackwaffle. Ladies and gentlemen, I present to you The Man with the Golden Gun - The Moonraker of 1974.
The worst part of watching the film? Knowing that they had a great book to base the whole thing on. Adaptations don't have to stick to the words on the page, but when a novel is ready-made for a film treatment, why create something inferior from scratch?
Published posthumously in 1965, Ian Fleming's thriller was a proper old-school spy yarn. It saw an old, out-of-shape Bond return from his MIA status after You Only Live Twice's failed mission. Dazed, confused, and convinced he was a Japanese fisherman, Bond was swiftly taken in by the KGB, brainwashed and sent back to London to assassinate M.
Whether Fleming finished it before dying or not, it's a corker of an opening that begs to be made into a film - why Richard Maibaum and Tom Mankiewicz chose to leave it out of the script is a source of constant bafflement. His brain unscrambled, Bond is assigned to track down Francisco Paco "Pistols" Scaramanga, last seen somewhere in the Caribbean. Not because Scaramanga sent a bullet to MI6 (NONSENSE NONSENSE NONSENSE) but because M reckons he's the right-sized kind of target for 007 to get his mojo back.
What follows is 150 pages of 007 sitting around a half-finished hotel, working his way into Scaramanga's inner circle and waiting for the chance to shoot him. With this ridiculously brilliant source material in mind (perhaps my favourite of Fleming's Bond books), I was unsurprised to find this informative pamphlet addressed to Albert R. Broccoli in my DVD case...