| | | |
| --- | --- | --- |
| Avatar Trailer - Only Average? | | |
Written by Ivan Radford
Thursday, 29 October 2009 17:20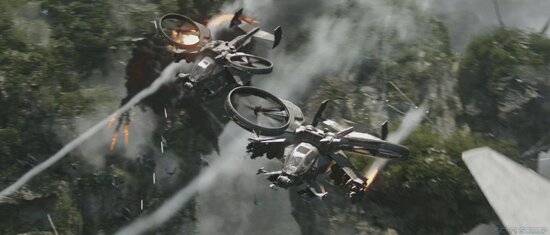 Here it is: the new international trailer for Avatar.  The official full-length trailer (i.e. not a teaser) is hitting the online world tomorrow, but it's supposedly identical to the one above. We get more of a look at Pandora, Cameron's uber-CGI 3-D paradise, and a bit more of the plot. The verdict? A resounding meh.

Ok, so the visuals still look good, but we've already gathered that one - on Sunday 1st November, the 3 1/2 minute trailer will be played on the world's biggest screen at the Cowboys stadium in Arlington, Texas. Millions in the crowd will make it the largest live preview of a movie to date, let alone the folks at home watching on FOX Sports.

"We will send a message: that this is our land!" yells marine Jake (Sam Worthington) in his mind-controlled Avatar body, bred especially for bowling around Pandora with Really Big Guns. But in between the mining of the planet's natural resources and the terrible looking love interest, James Cameron's Avatar is looking increasingly average story-wise. After that crazy hype machine working overtime, it's a massive anti-climax; when it comes to tight-lipped PR campaigns, less is always more. Now we've got more, I'm not sure I want it. Judging by this, heck, I prefer Titanic. At least that had Billy Zane.

Maybe I'm being too harsh. Is this a big blue let-down? Your thoughts? Read on for the full video.
Tags:
3-d
action
aliens
avatar
blue
december
james cameron
navi