| | | |
| --- | --- | --- |
| Bridesmaids Tops UK Box Office without a Hitch | | |
Written by Ivan Radford
Thursday, 30 June 2011 08:02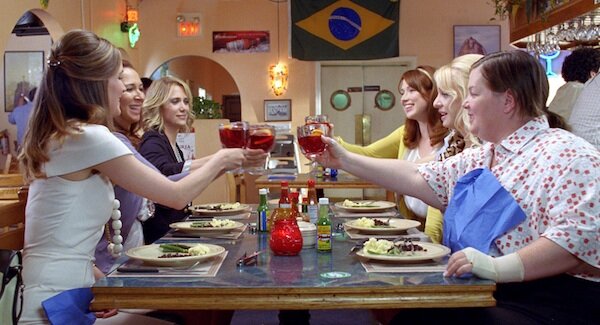 Bridesmaids painted the town pink over the weekend, strolling down the aisle with £3.4m shoved up its dress. 
That's a strong opening figure for the Judd Apatow comedy, which has deservedly received a massive amount of positive buzz thanks to talker preview screenings, critical praise and a big US box office haul.
It debuted in the States with $26m, which suggested a £2.6m opening here in the UK, so Universal will be pleased with £3.4m. Clearing the £3m mark at all is excellent for a comedy (ignoring its extensive previews, Paul took £3.2m over three days back in February) so Bridesmaids' UK debut is worth getting excited about. The fat one in the film probably pooed herself when she heard the news.
Kung Fu Panda 2 holds onto second spot in the UK Top Ten, dropping only £500k from its £2m takings last week - a strong indication that its current running total of £11m is only the beginning of a solid summer haul. As Transformers 3 arrives to steal everyone's 3D screens, Kung Fu Panda 2 is showing in the highest number of UK cinemas (over 500), so Po's in a good position for another few weeks.
It's a completely different story for Green Lantern, which ost 55% to take just over £1m in its second week. It's not broken the £5m barrier yet, but I wouldn't expect it to get much higher - it's posting an almost identical figure to Bad Teacher, which is in fourth place. That's a 3D blockbuster making as much money as a 2D comedy starring Justin Timberlake that's currently getting its butt kicked by Bridesmaids. In other words, it's a big, green flop.
But believe it or not, there are floppier films out there than Warner Bros' Lantern thingy. There's Jodie Foster's Beaver, which lost 80 odd percent from last week, and also Swinging with the Finkels, Martin Freeman's apparent turd, which dropped by a spectacular 96%.
And yet even they can't compete with the failure of Gordon Ramsay's Love's Kitchen, which opened on 5 screens in the UK to take a nationwide gross of £121. That's barely 10% of what Ghosted made from 3 screens (Craig Viveiros' impressive prison drama made £1,400).
I would make a joke about Love's Kitchen's takings being the price of a meal at Gordon Ramsay's restaurant, but the idea of that film is already enough of a joke on his own. So that's that taken care of.
Equally rubbish but with far more cash in its pockets, The Hangover Part II is hanging around at number five with £800k from the weekend. Disturbingly, its total is still almost the biggest of the blockbuster season so far, just a few hundred thousand behind Pirates 4's £31.9m gross. People didn't want to see Disney's franchise return to cinemas, but for now Jack Sparrow is the undisputed king of summer.
That'll change in a matter of weeks, though, when Harry Potter and the Deathly Hallows Part 2 hits UK cinemas. Which is why it's great to have documentaries like Senna at a safe distance from the boy wizard: Senna's now got £2.54m overall and, yesterday, officially became the highest grossing documentary of all time in the UK.
Take that, Michael Moore and March of the Penguins.
And on that happy note, it's time to run away before Michael Bay's giant CGI robots smash Senna's success into tiny smithereens. Can Transformers 3 beat Pirates 4 and top £11m? Depressingly, I wouldn't rule it out yet.
For full box office figures, go to Box Office Mojo. 
Tags:
bridesmaids
green lantern
kung fu panda 2
pirates 4
senna
the beaver
the hangover part 2