| | | |
| --- | --- | --- |
| THE MUPPETS STOLE MY IDEA | | |
Written by Ivan Radford
Thursday, 16 June 2011 16:31
So if you were hanging around on Twitter a couple of days ago, you would have seen this tweet from a rather lovely fellow: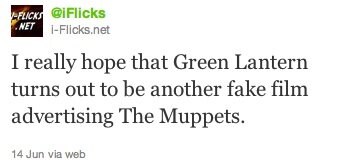 The tweet in question was making a comic reference to The Muppets' current marketing trend of making spoof trailers for fake movies (see the Green with Envy trailer) and the fact that Green Lantern is apparently a load of cackwaffle. It was clearly a very sophisticated and witty joke.

And now, two days later, The Muppets have just released this:
Coincidence? I THINK NOT. 

(Although the Swedish tagline and the joke made by Jason Segel? Yeah, I didn't come up with that. Although I do a very good Swedish Chef impression...)