| | | |
| --- | --- | --- |
| X-Men: First Class Gets First Place at UK Box Office | | |
Written by Ivan Radford
Wednesday, 08 June 2011 10:36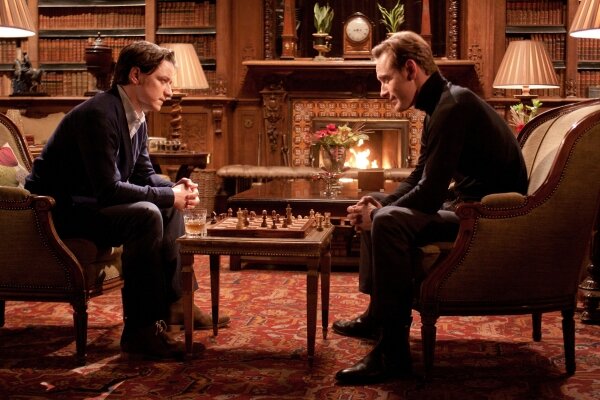 X-Men: First Class hit first place at the UK Box Office with an opening of £5.4m. 

That sounds pretty groovy for a 60s-set mutant prequel, but it's actually the weakest of the franchise since the original X-Men back in 2000. Arriving without any audience awareness of the series, Bryan Singer's comic book movie opened on £4.8m - Fox would have been hoping for slightly more evolved figures by now.

With the other X-Men films taking between £6m and £7m on their debuts, Matthew Vaughn's excellent blockbuster is quite a way behind. Still, it has far more positive buzz than Brett Ratner's X-Men 3 or 2009's Wolverine outing, which may keep its powers strong enough to claw together a stronger total.

First Class almost took second place in the UK Top Ten thanks to The Hangover II. Even with a 15 certificate and a lot of backlash, Todd Phillips' sequel, which took just under £4m in its second weekend, has already passed the £20m barrier. 

That's a horrendously high amount for a 2D comedy - in fact, it's earned more than three times the £7.7m The Hangover had totalled up over two weeks in 2009. Feel free to bash your head against a brick wall at any point in the next seven days.

Slightly ahead of that gross, Pirates 4 sailed off with a little over £2m in its third week, still holding onto the most screens in the UK. Fox's Diary of a Wimpy Kid 2, meanwhile, won't be writing home as much this week - it landed in fourth, dropping 56% from its debut, despite a slight increase in the number of cinemas showing it. 

Fox will be a bit disappointed with both of their recent releases, but can console themselves with the fact that Rio is still hanging in at the bottom of the charts. I'm not really sure why, even if it is half-term.

Above it is the impressive documentary Senna, which skidded into sixth place with £375k. That's almost £400k from fewer than 70 cinemas across the country, giving it an average per-screen of around £5,600. That's high. Very high. And proves that racing fans aren't afraid to see films like Senna and TT3D on the big screen. Senna may even overtake TT3D's running total of £1.09m if it speeds through next weekend in the same gear. In short, all hail Senna - let's just not mention the fact that JLS: Eyes Wide Open debuted one spot above it.

The surprises of the week really come from Fast Five and Thor, both of which drop 70%-80% to land with a thump in ninth and tenth place respectively. They lost half of their screens to X-Men and The Hangover Part II, but while £18m is a brilliant gross for Fast and Furious 5, Thor might have been aiming for a little more than its £13m.

Still, the hairy and the not-so-hairy can all point and laugh at the flop that was Disney's Prom. Showing in over 110 cinemas, the high-school flick couldn't even muster £35,000 - an F in anyone's books.

Last Night was also a little on the limp side down at number 11, with Keira Knightley and Sam Worthington's steamy sex drama pulling in just above half a million from under 50 screens. That's not dreadful, but it doesn't say much for the magnetism of its leads. At least it did better than Noel Clarke's Screwed, which certainly lived up to its name.

With First Class and The Hangover 2 hogging all the multiplexes, it'll be interesting to see what kind of fight Paramount's Kung Fu Panda 2 will put up. It's been showing over the half-term already so the preview numbers should be big enough to take first and second spot away from Todd Phillips. The thought of a cuddly panda punching his sequel in the face would make the summer blockbuster months much easier to bear.
For full box office figures, head over to Box Office Mojo.
Tags:
keira knightley
last night
noel clarke
pirates 4
screwed
senna
the hangover 2
thor