| | | |
| --- | --- | --- |
| Battle: Los Angeles Storms UK Box Office; Rango Stays in Second | | |
Written by Ivan Radford
Tuesday, 15 March 2011 08:07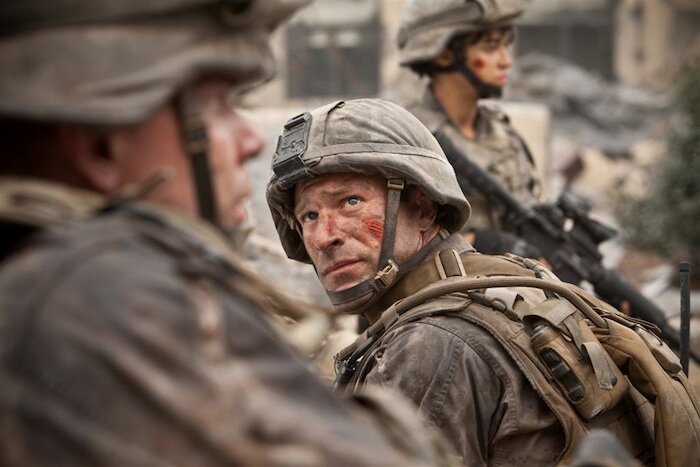 Battle: Los Angeles stormed the UK Box Office this weekend with an opening of £1.79m. That's just ahead of Rango, which took £1.54m in its second week.

Jonathan Liebesman's crap alien invasion didn't light up the UK as it did the US ($36m across the pond should have led to £3.6m here), but Aaron Eckhart's chin stuck out just far enough to hold off Nickelodeon's Sergio Chameleone – and that's no mean feat, given that the gun-toting lizard dropped a microscopic 6.02%. That's a difference of just £98k from its £1.64m opening, proving that people are still enjoying Rango outside of half term.
The week's other victory belonged to Unknown, as Liam Neeson leapfrogged Matt Damon into third place. Neeson's amnesiac revenge thriller had the higher screen average last week and continues to pack in the punters, even though The Adjustment Bureau holds around 100 more screens. So while Damon dropped a typical 35%, Neeson shaved off only 23%. Bourne meets Aslan. Aslan wins.
New entry Hall Pass completes the top half of the table, notching up £900k in the face of overwhelmingly negative reviews. People clearly like watching poo getting sprayed up the wall, but expect a Big Momma-sized drop this week as Chalet Girl enters the ring; its pink "snow-mantic" poster has way more appeal to the teenage girl market.
The only other new release in the UK Top Ten is Fair Game, which took a mere £304k down at number nine. That's even less than the non-mainstream Milk, which won £336k in 2008 with half the number of screens (255 versus 131). It's also way behind the similarly marketed The Interpreter (Naomi Watts = Nicole Kidman), which debuted with £1.59m.
But Sean Penn isn't as floppy as Christopher Lee or Ben Affleck. Both The Resident and The Company Men bailed completely, not even making the Top 15. Ok, they're only showing at approximately 100 cinemas each, but £139k and £37k really are quite duff results. Especially when West Is West is still chundering along at £248k from 124 sites. Icon has done a brilliant job to hold 10th place for three weeks running.
The week's main arthouse release was Norwegian Wood – landing like a Japanese Never Let Me Go, it took £92k from 33 cinemas, which is alright for a subtitled outing, but it really could have done with passing the £100k barrier.
Meanwhile, as Paul and Gnomeo both claw their way towards £14m and £15m respectively, they're dwarfed (again) by The King's Speech. The Oscar-winning picture lost 36% to drop below £1m for the first time in 10 weeks of release, but has now officially entered the Top 25 All-Time UK Box Office hits.
Its £43.26m total places it directly next to Toy Story 2's £43.29m – which, of course, it will shortly overtake. Topping a Pixar sequel is as mental as it gets for a period drama, but let's not forget the important thing here: The King's Speech has now taken more money than Alice in Wonderland. We can all start breathing again.
Colin Firth should easily stay in the UK Top Ten for another few weeks on his way to £45m – the only big competition this Friday comes from Matthew McConaughey in The Lincoln Lawyer. Unless Woody Allen's latest or Richard Ayoade's Submarine pull something amazing out of the hat, which would be as unlikely as The King's Speech hitting £45m was in the first place. 
Tags:
battle: los angeles
fair game
gnomeo & juliet
hall pass
milk
norwegian wood
the adjustment bureau
the company men