| | | |
| --- | --- | --- |
| Tron Trips up at UK Box Office | | |
Written by Ivan Radford
Tuesday, 21 December 2010 10:05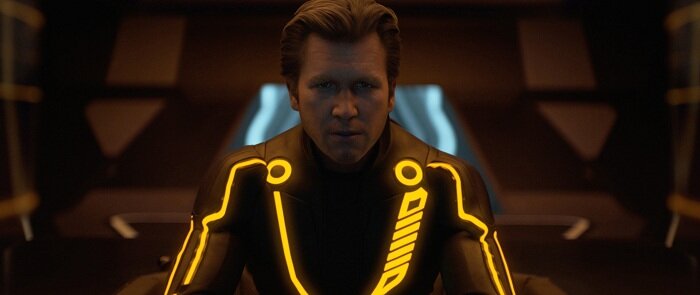 Disney hoped this wouldn't happen. Tron: Legacy, with all its trickery pokery, Bridgery clonery, has tripped up at the UK Box Office with an opening weekend of £1.97m.

That's £500,000 less than Dawn Treader's debut. And that was considered a concern for Walden Media/Fox, even more so now that it's dropped 50% down to £1.23m. So what went wrong?

That's bound to be the question at Mickey Inc., where conditions were just right for a box office takeover: it was Christmas, they had 3D, they were in last year's Avatar slot, they cut costs on the script. What happened?

The snow will obviously be blamed - it can stop light bikes as sure as it stops Heathrow airport, the education system and your mum's Fiat Punto. Avatar had the same problem when it opened (many multiplexes actually shut up shop for a night in December 2009), but even then James Cameron clawed together £8.5m from a weekend of snow-strewn frozen chaos.

Take away the 3D uplift and you're left with an amount that The Tourist's opening (£1.34m) tried to rival last week. The Best Comedy/Musical of the Year isn't laughing now, as it also split profits in two to take £700k in its second week. Depp and Jolie are strutting all over Burlesque, though, which debuted with £425k, leaving Cher stuck in 6th place and The Tourist up in 4th spot.

The surprise, for me, is Harry Potter's steady decline. The boy wizard is still in 3rd place but also played halves with takings dropping to £875k. The boy wizard's total is a solid £44.4m, but for a franchise depending on fans' repeat viewings, it's that kind of 5th week figure that highlights how quiet the blizzard battered weekend was. And how many screens Disney gobbled up for Tron: Legacy. It also shows the impact that 3D can make on the box office.

Even taking those factors into account, there's little disguising that Tron flopped.

See the full UK Box Office Top Ten. 
Tags:
avatar
box office top ten
cinemas
disney
flop
harry potter and the deathly hallows
imax
opening
takings
the tourist
tron legacy