| | | |
| --- | --- | --- |
| True Grit Trailer Appears Online | | |
Written by Ivan Radford
Monday, 27 September 2010 21:32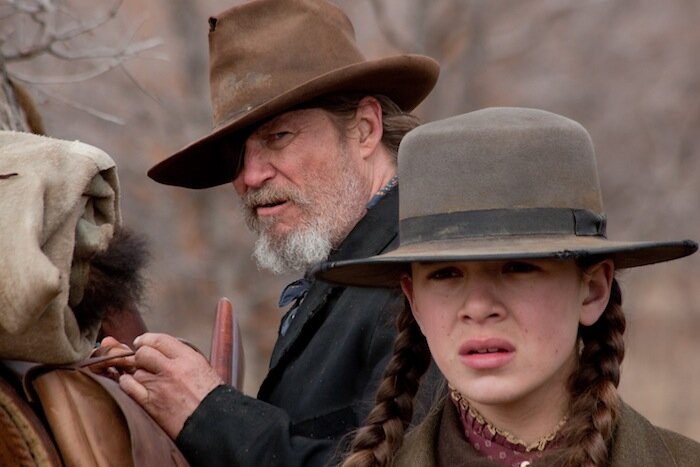 The trailer for True Grit has finally turned up online, significantly boosting its chances as the LFF Surprise Film.

The Coen Brothers have been quiet on the Western front since we got a first look at Jeff Bridges in a hat a while back, but now we can see properly what their latest has to offer. The answer: Jeff Bridges in a hat. And an eye patch.

A remake of Henry Hathaway's Western, True Grit centres on young Mattie Ross (newcomer Hailee Steinfeld), who wants revenge on her father's killer, Tom Chaney (Josh Brolin). And so she enlists the help of drunken ageing Marshal Rooster Cogburn (Jeff Bridges) and young Texas Ranger, La Boeuf (Matt Damon), to do it.

Reuniting with The Dude himself, the Coen Brothers are in famiiliar territory; barren landscapes, death, philosophical music sprinkled over the top, they can do this stuff with one eye closed whilst riding a horse and shooting someone. Something that will presumably happen quite a lot in this film.

With its fair share of Josh Brolin and Matt Damon, both matching Bridges' moustache, True Grit is shaping up to be another piece of beautiful cinema - after all, Roger Deakins is on board.

True Grit is out in the UK on Friday 11th January. Head over to Apple to check out the trailer, or read on for the full video. Then tell everyone you know how awesome it looks. And start praying for a cameo at the London Film Festival.
Tags:
a serious man
coen brothers
hailee steinfeld
henry hathaway
jeff bridges
john wayne
josh brolin
lff
london film festival
matt damon
no country for old men