| | | |
| --- | --- | --- |
| Love and Other Drugs Trailer Online | | |
Written by Ivan Radford
Friday, 03 September 2010 15:03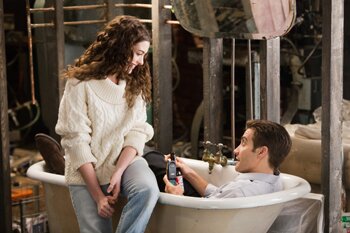 Remember Valentine's Day? That film that came out and ruined everyone's favourite fake holiday? Well, here's the one for next year. Except Love and Other Drugs actually looks good. It's got Jake Gyllenhaal in it. And judging from the film's new trailer, he looks very good.

Gyllenhaal plays a playboy pharmaceutical rep called Jamie - he's got a good career, loads of ladies, and his company has just launched that famous little blue miracle pill. Then, in walks a woman who looks a lot like Anne Hathaway. Let's call her Maggie. Now Maggie is after the same thing: carefree sex. And probably money. Either way, she knows what Jamie really wants: "an hour or two of relief from the pain of being you". Zing.

Oozing with Gyllenhaal's charm and full of naughty references to sex, the rom-com no doubt comes with some kind of spiel about it all being about the ultimate drug: love. But this isn't just any rom-com. This is a rom-com directed by Edward Zwick. The guy who gave us swords and guns in The Last Samurai and angry Jews in Defiance.

So, from the director of Blood Diamond, here's Love and Other Drugs. A film about what romance is really all about: viagra. It's out in the UK next February. You can guess which date. The trailer's in our videos section, but you can read on for the full thing.