| | | |
| --- | --- | --- |
| Viral Site Launches for They're Here | | |
Written by Ivan Radford
Thursday, 02 September 2010 23:37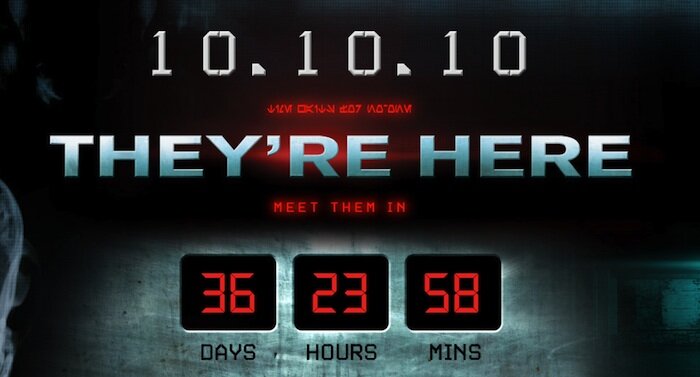 What with Battle: Los Angeles and Skyline, you might have had enough of alien invasions and other such extra-terrestrial threats. But on the opposite scale of things comes an intriguing new viral site launched for a completely unknown film: They're Here.

With pretty much nothing else on the site apart from a giant red clock counting down and some ominous phrases, there's not much to go on. Just a promise to reveal all on 10-10-10. Whatever there is to reveal. Until then, there's some Twitter action going on from a (presumably fictional) user called Paul Geist. And a very short bit of teaser video on YouTube. Which was shot near Falkirk, Scotland.

That location plus the UK URL of the site suggests a low budget feature, which promises to have a trailer arriving later this month before the big reveal. Will this end up linked to a bigger Hollywood project? Given the activity (both promotional and legal) going on with invasion flicks Battle: Los Angeles and Skyline, it seems unlikely. We'll be keeping a tab on this potentially interesting and most likely indie bit of sci-fi.

The website is over here, and you can read on for their video of a UFO sighting.
Tags: