| | | |
| --- | --- | --- |
| Canton and Cameron Share Piranha 3D Bloodbath | | |
Written by Ivan Radford
Wednesday, 01 September 2010 17:35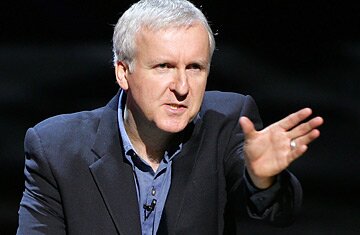 Following his happy reaction to Piranha 3D's box office performance and plans for a sequel, producer Mark Canton has found himself in bloody waters. Not due to killer fish or Kelly Brook, but thanks to Pandora's chief 3D spokesman, James Cameron.

The Avatar director, who previously slammed Clash of the Titans and Alice in Wonderland for their sloppy post-conversion work, turned his powers of the dark side onto Piranha 3D during his Avatar press tour.

He told Vanity Fair: "It's exactly an example of what we should not be doing in 3D. Because it just cheapens the medium and reminds you of the bad 3D horror films from the '70s and '80s, like Friday The 13th 3D."

Outraged by Cameron's derogatory comments, Canton retorted by citing Piranha 3D's 82% Rotten Tomatoes rating and the fun experience audiences are having in the cinemas - including filmmakers such as JJ Abrams. 

"Mr. Cameron, who singles himself out to be a visionary of movie-making, seems to have a small vision regarding any motion pictures that are not his own," the producer wrote to journalists. "It is amazing that in the movie-making process - which is certainly a team sport - Cameron consistently celebrates himself as though he is a team of one."

Cameron, who started his career with a brief directorial stint on 1981's Piranha Part 2: The Spawning, reiterated his belief in the current "renaissance" of 3D cinema. Referring to both Disney's Tron and Martin Scorsese's 3D project, he dismissed Piranha 3D as "bottom of the barrel".

Canton concluded by describing Cameron's comments as "ridiculous, self-serving and insulting to those of us who are not caught up in serving his ego and his rhetoric."

Avatar (Special Edition) was re-released in UK cinemas in 3D last week and contains eight additional minutes of new footage.
Tags: