| | | |
| --- | --- | --- |
| New Life As We Know It Trailer | | |
Written by Ivan Radford
Friday, 20 August 2010 09:52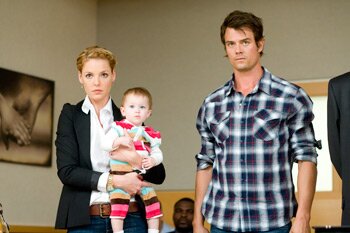 People always want more Katherine Heigl in their lives. Well, now they've got it, with the full theatrical trailer for Life As We Know It, a rom-com about two incompatible adults lumbered with a baby.

Heigl plays Holly, a caterer who goes on a date with network sports director Eric (played by Josh Duhamel). It goes completely wrong. But they have one thing in common: their goddaughter Sophie. Cue predictable baby-related shenanigans when Sophie ends up solely in their care.

It's obvious why Heigl and Duhamel were cast together for a rom-com: they're both sexy and good looking enough to have ridiculously good looking babies. But lumbering them with someone else's baby? Who knows what could happen? He might push the child over every now and then, or drop her on the head repeatedly. And she might end up with poo on her face.

See the abuse for yourself with the extended trailer for the comedy, which also gives us a tantalising glimpse of the funeral for Sophie's parents - how long they'll linger on that moment is anybody's guess.

Life As We Know It hits cinemas on Friday 8th October. You can check out the trailer over here, or read on for the full video.
Tags: