| | | |
| --- | --- | --- |
| On Stranger Tides Trailer Wows Comic-Con? | | |
Written by Ivan Radford
Monday, 26 July 2010 09:51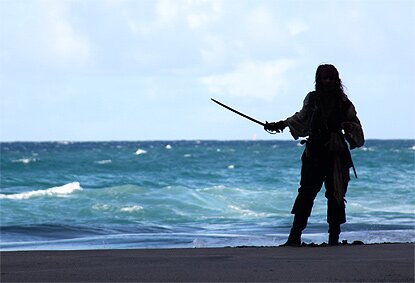 Comic-Con fans would have been excited to hear word of a new Pirates of the Caribbean trailer**. Then again, it's only just started shooting, so it's no surprise that there's no actual footage in the teaser video. It's just Jack Sparrow. Sitting at a table. Talking. In 3D.

Yes, Johnny Depp is back as Cap'n Jack, complete with bottle of rum, and he's hear to tell us about his quest for the legendary Fountain of Youth. Not that he's going on the quest, mind you. But if wasn't not going on the quest, the adventure would no doubt feature "very insubstantial dangers, including but not limited to zombies, cut-throats, mermaids, and a vicious and vivacious Penelope Cruz".

It's still hard to work out if that fourth wall breaching is a good thing or not. It clearly won't happen in the film. Although if it does, then Disney's franchise may be well and truly capsized - it's treading water at the moment, thanks to the decision to push all the old cast off the plank except for Jack Sparrow and Geoffrey Rush's Cap'n Barbossa.

Setting sail under Rob Marshall's helm, On Stranger Tides sees Ian McShane as Blackbeard, facing off against the other 3D shipmates. Expect it to dock next May.

What do you think? Is this promising? Or just an anti-climax? Check out the teaser over here, or read on for the video. 
** actually, would they? 
Tags: