| | | |
| --- | --- | --- |
| New Toy Story 3 Trailer Online! | | |
Written by Ivan Radford
Thursday, 11 February 2010 13:49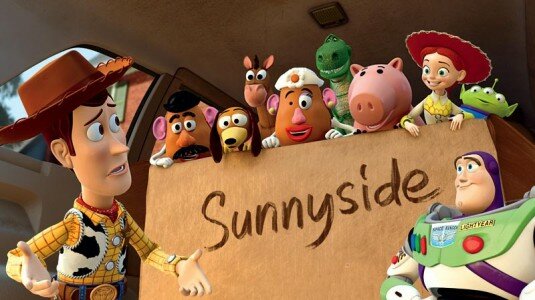 Everyone was amazed when Toy Story 2 surpassed the sheer brilliance of the original Toy Story. But could Pixar really do it again with Toy Story 3? It might just be possible, judging by the new Toy Story 3 trailer which showed up online today. It has laughs, it has monkeys, it has Ken meeting Barbie. It even has a new character called Lots-O' Huggin' Bear. He's pink. And awesome.

Lots-O' Huggin' is the bear in charge at Sunnyside Day Care, where Andry dumps his toys so he can head off to college without looking like a gay softy. But after a bit of rough and tumble play, Woody, Buzz and the gang are all set to break out of Sunnyside. As long as Lots-O' lets them.

This third trailer for Pixar's second sequel comes as a massive relief - that last one really worried me (mainly because it looked pants). But hey, 3-D or no 3-D (I wish it were no 3-D), this is honestly looking a lot more like the Lee Unkrich we know - after all, he did co-direct Toy Story 2. And Finding Nemo. 

Head over to MTV for the new trailer, or read on for the video. 
Tags:
3-d
buzz lightyear
disney
pixar
sequel
tim allen
tom hanks
toy story 3